Copyright Protection
Most pieces I've crocheted to patterns written by other artists, using my own colour recipes.  Occasionally I create a completely original work, but have yet to document the process.
Credit is attributed when I've used another artist's pattern. Some patterns were free, others I paid for.  I do not share copies of paid for patterns.
You are welcome to share any of my posts, free patterns, images or tutorials.  If you do, please give credit to FizzyPetal and link back to this site.  Please do not represent or sell my images, patterns or tutorials as your own.   (Would you believe that people actually do this?!)
Please do not share paid for patterns but please feel free to share the links to purchase.
If you use my patterns or colourways in any of your projects – I'll be totally flattered!   You are free to sell finished works based on FizzyPetal patterns or colourways so long as you give credit for the pattern or colourway to FizzyPetal.  Please do not use images of my work as representative of your own.
If the free pattern you are sharing from my site is attributed to another artist/designer/crocheter, please credit that person including a link to their page, pattern or book.
Internet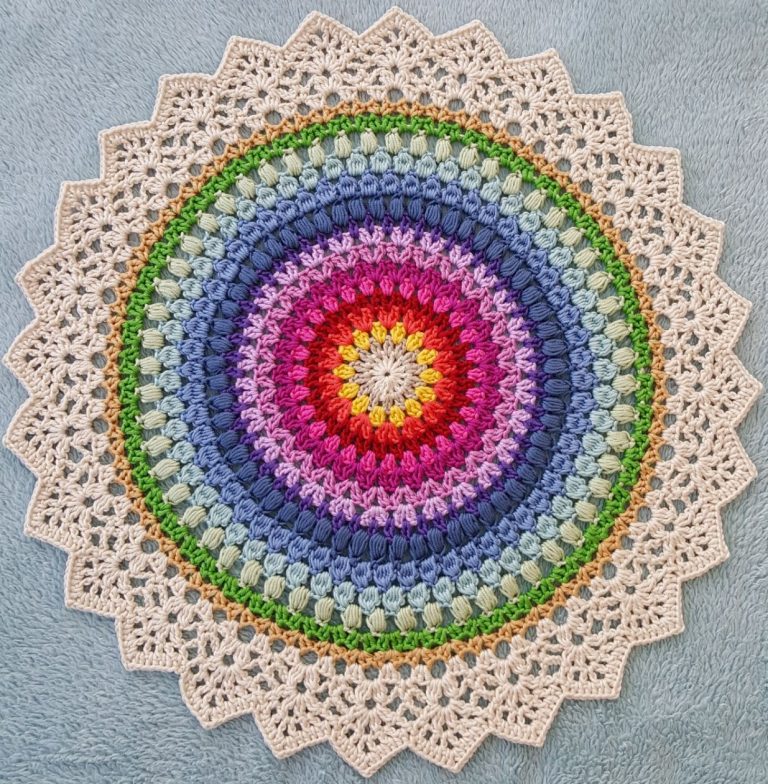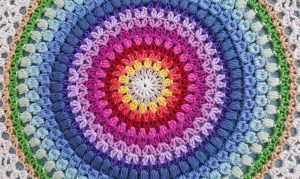 Crochet Millan Sunrise Mandala
Rico Essentials Cotton DK – Natural, Beige, Banana, Azalea, Cherry, Fuchsia, Raspberry, Orchid, Violet, Purple,  Jeans, Pigeon Blue, Hay, Grass Green, and Gold.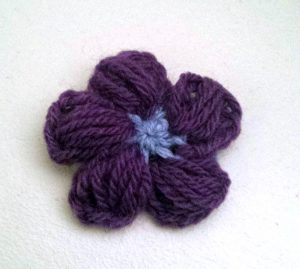 Puff Flower – Tutorial by B.hooked Crochet
Yarn: Sirdar Country Style (shade 0471 (the purple, discontinued)  Unfortunately I can't remember the colour of the blue, but it was a Sirdar as well.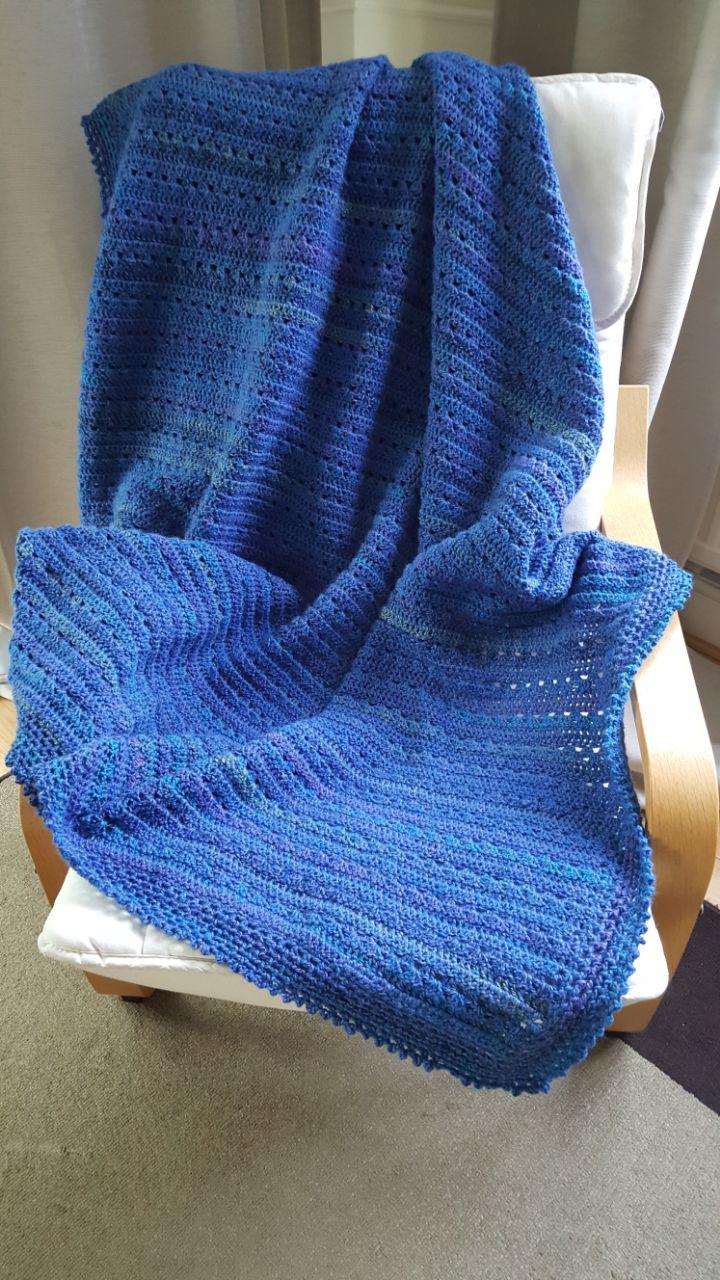 Attic24  Cosy Stripe Blanket  (darker blue)
Yarn: James C Brett Marble DK – colour codes 20 (light blue) and 38 (darker blue, discontinued)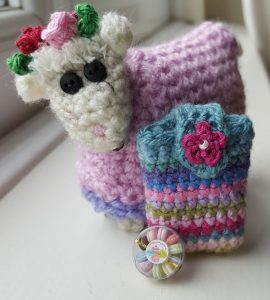 Attic24   Woolly Sheep and Weekend Bag , Teeny-Tiny Flowers, May Roses – The miniature Weekend Bag in the picture is inspired by the full size version Lucy created.  🙂
Yarns and Accessory:
Stylecraft Special DK – Clematis, Wisteria (Coat), Storm Blue, Sage, Violet, Aster, Fondant, Lavender, Meadow, Candyfloss, Pomegranate, Storm Blue, Apricot, and Pistachio
Scheepjes Catona (nose, roses head-wreath and flower applique on bag) – colour codes 246, 222, 114, 516 515.
My Tiny World Miniature Macaroons – also available on Amazon.co.uk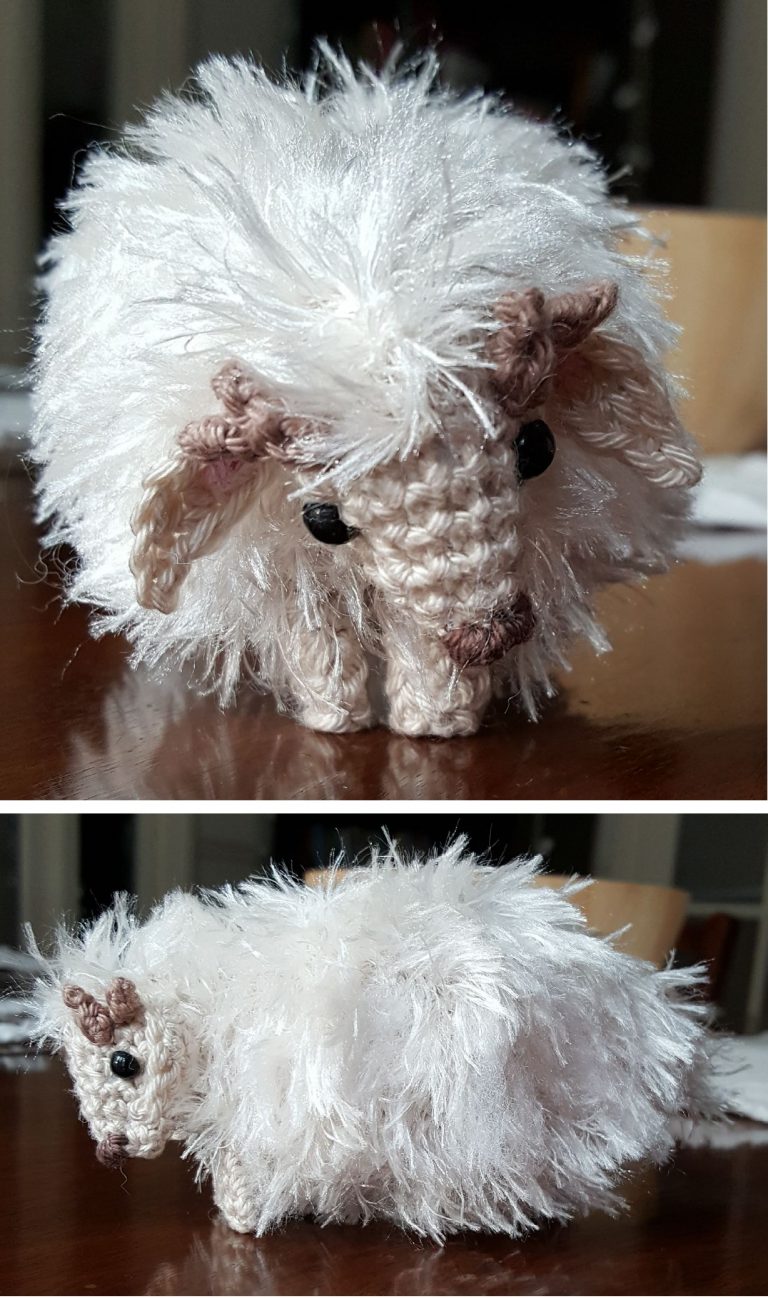 Modified Attic24 Woolly Sheep Pattern
Yarns:
Scheepjes Catona – Colour Codes 505, 506 and 507
Stylecraft Eskimo DK – Natural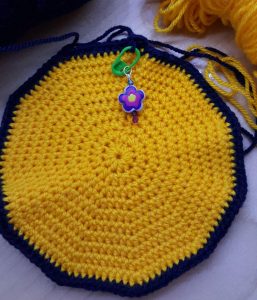 Two Hearts Crochet Solar System CAL  (01 May 2018 – WiP)
Yarn: Stylecraft Special DK – Sunshine, Midnight, Grey, Graphite, Claret, Cloud Blue, Cream, Gold, Green, Mocha, Royal, Parchment, and Vintage Peach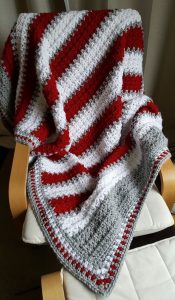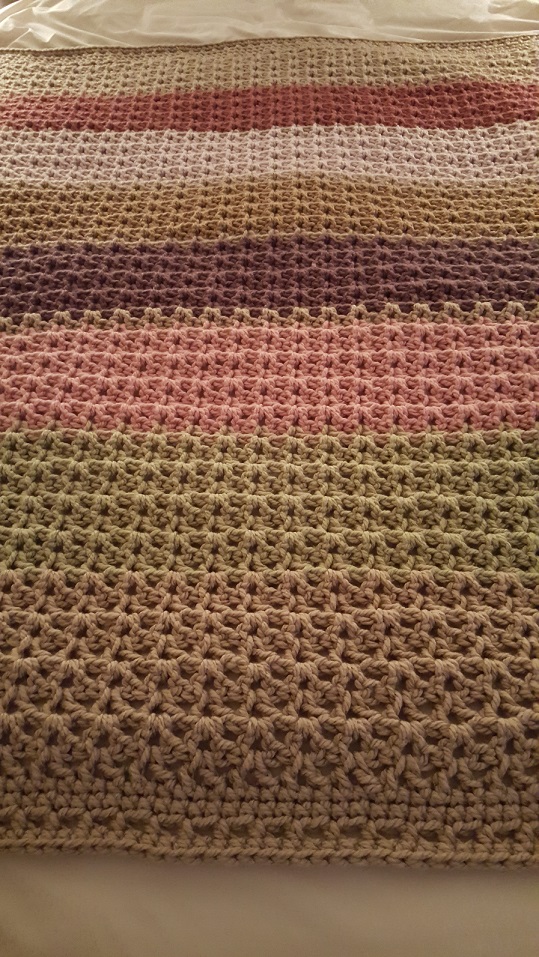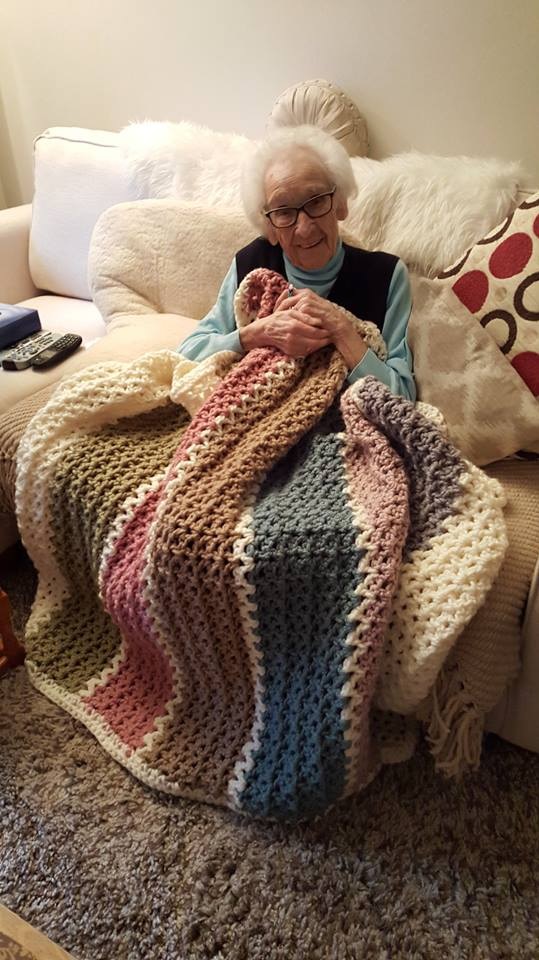 Repeat Crafter Me Quick and Easy Chunky Crochet V-Stitch Afghan
Fizzy's chart translation and tutorial for Le monde de Sucrette V stitch stripes
Attic 24 Linen Stitch & changing colours
Yarns
School Team Throw:  King Cole Big Value Super Chunky – Grey, Wine and White
Scheepjes Roma Big in the following colour codes:
Autumn Throw: 54, 24, 53, 60, 6, 59 and 55
Grandma Lora's Throw:  5, 55, 6, 52, 59 and 2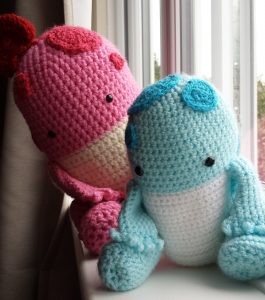 Quaggan pattern by granny square maniac
Yarns:
Stylecraft Special Chunky – Fondant and Cream
Stylecraft Special Aran – Pomegranate
Stylecraft Special DK – Sherbet, White and Turquoise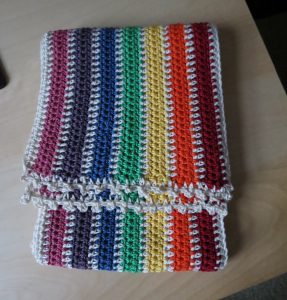 Bella Coco Tutorial – Half treble crochet stitch stripes
Yarn: Rico Essentials Cotton DK – Banana, Berry, Cherry, Dark Jeans, Pumpkin, Emerald, Mauve and Nature.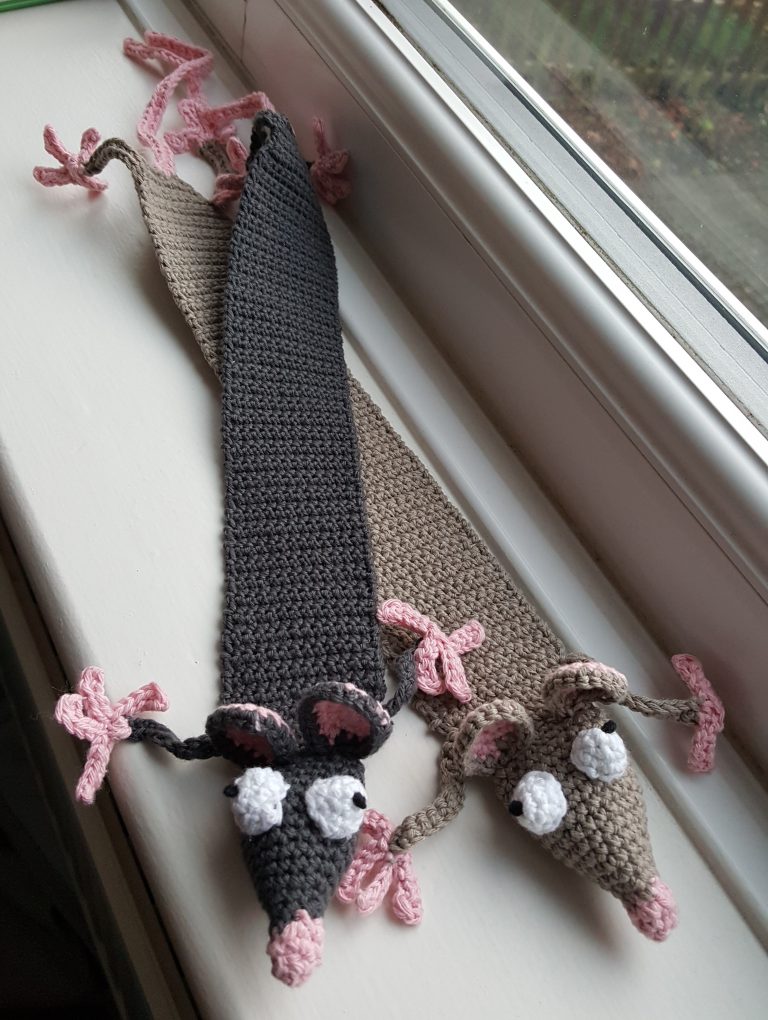 Supergurumi – Book Rat Bookmark
Yarn (4-ply):
Drops Love You 7: Black, Dark Grey
Drops Love You 6:  Light Brown, Light Pink (discontinued)
Drops Safran: White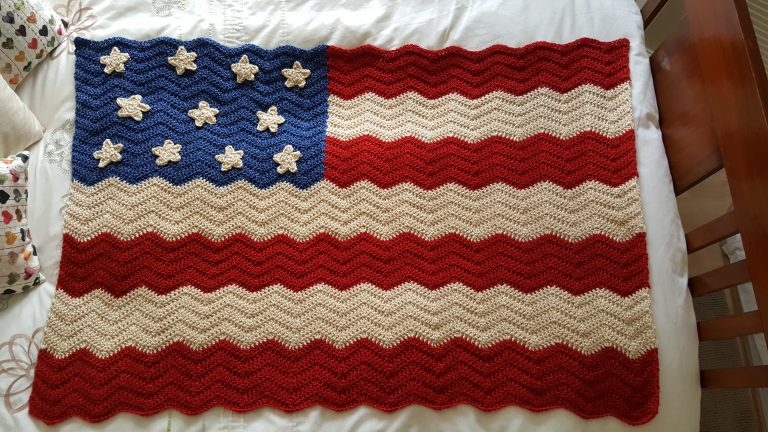 Lion Brand Yarn Flag Afghan
Lion Brand Flag Afghan Ravelry Link<
Yarn: Lion Brand Heartland – Acadia, Redwood and Olympic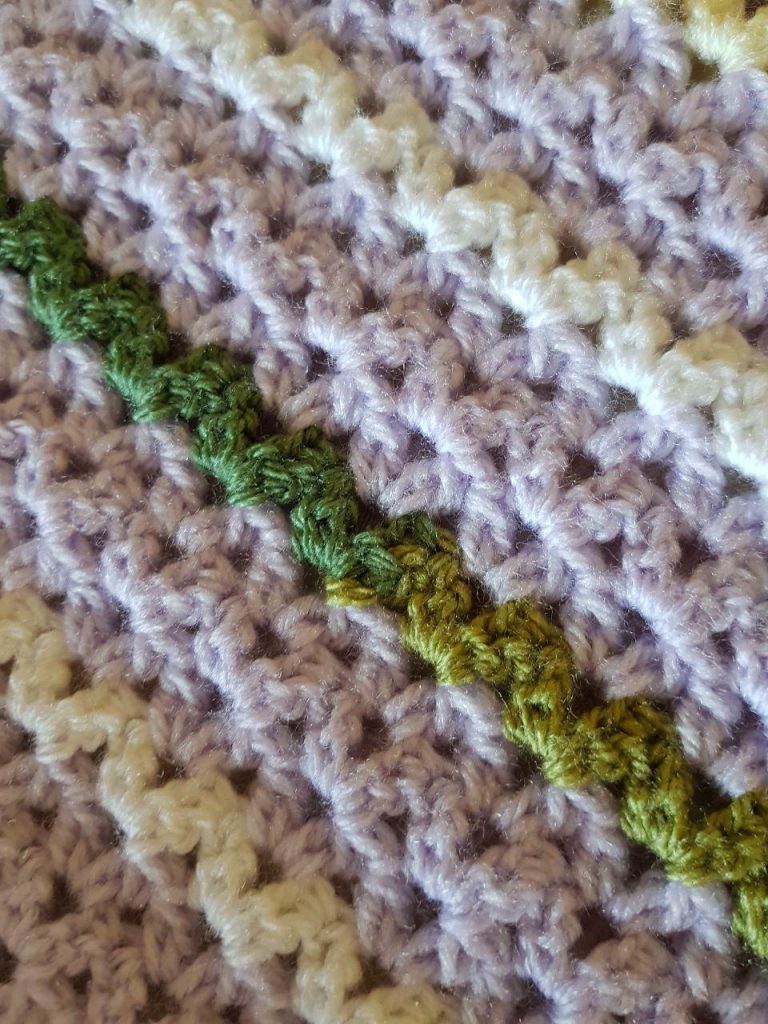 Blanket Body: Le monde de Sucrette Another V-Stitch version 2
Border: Attic24 Linen Stitch Edging
Yarns:
Robin DK – White, Lilac White, Lemon, Powder and White
Stylecraft Special DK – Parma Violet, Lavendar, cream, Sage, Cypress, Meadow and Pistachio oddments.
Stylecraft Bambino – Clotted Cream, Soft Pink and Heather.
Scheepjes Colour Crafter – 2006 Luik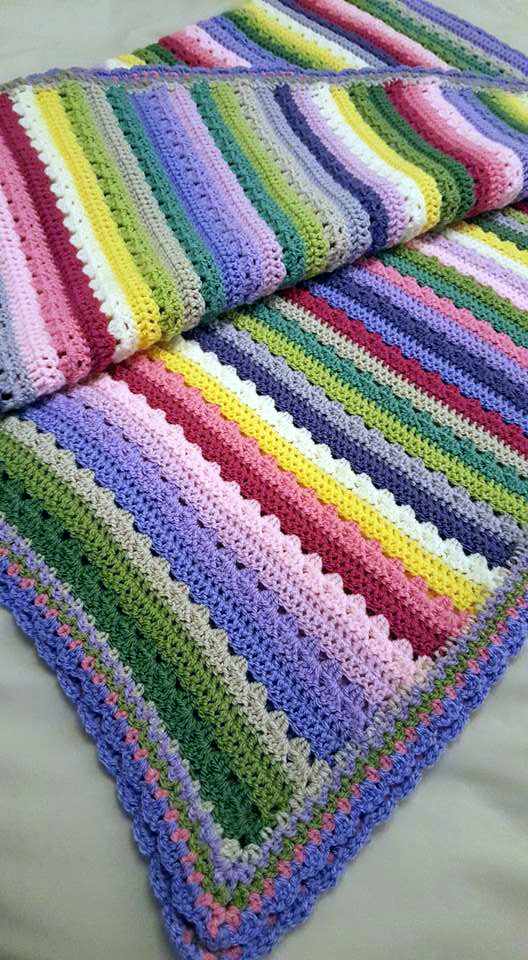 Attic24 Cosy Stripe and Cupcake Stripe  (same stitch patterns, different colourways)
Attic24 Linen Stitch Edging
Yarn (Above blanket) : Stylecraft Special DK – Meadow, Cypress, Violet, Parma Violet, Candyfloss, Fondant, Fuchsia Purple, Cream, Citron, Pistachio, Parchment, Sage, Lavender, Wisteria and Clematis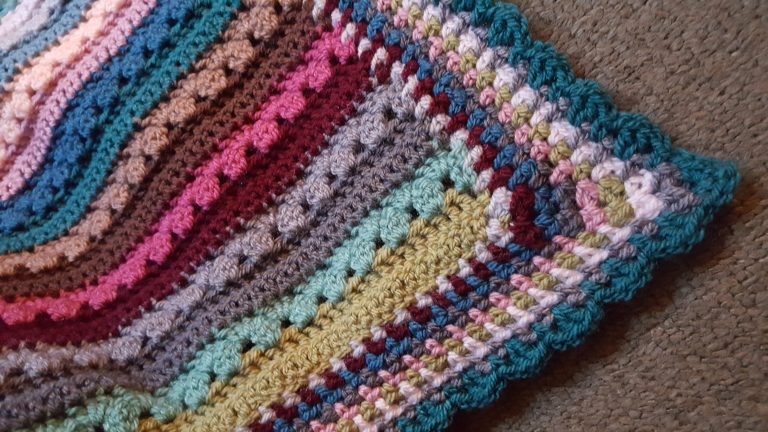 Yarn: Stylecraft Special DK – Meadow,  Sage, Teal, Petrol, Storm Blue, Graphite, Grey, Silver, Walnut, Mocha, Burgundy, Raspberry, Pale Rose, Soft Peach and Apricot
Yarn: Stylecraft Special DK – Plum, Pale Rose, Violet, Lobelia, Meadow, Citron, Spring Green, Wisteria, Grape, Mocha, Apricot, Candyfloss, Duck Egg, Cypress and Mustard.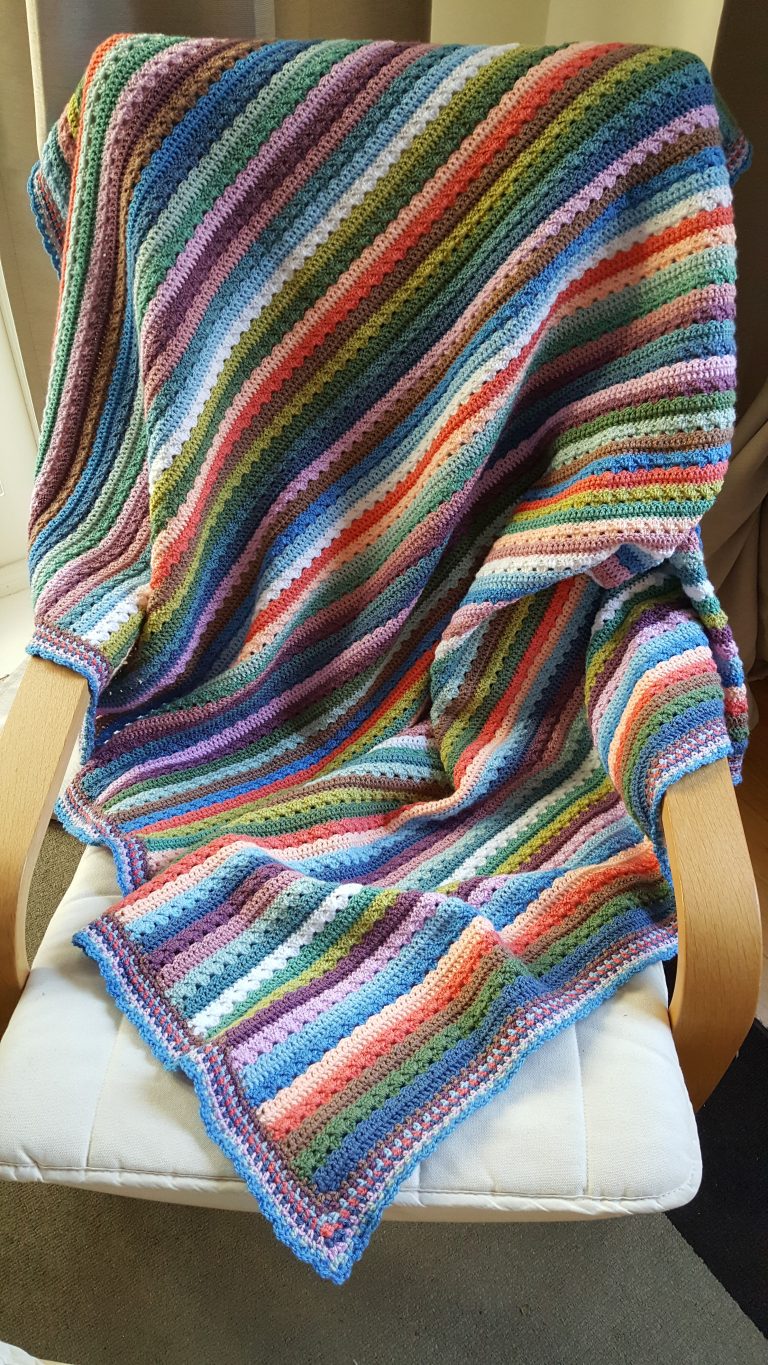 Yarn: Stylecraft Special DK – Denim, Cypress, Mocha, Shrimp, Apricot, Aster, Cloud Blue, Clematis, Grape, Pistachio, Sage, White, Storm Blue, Duck Egg and Pale Rose.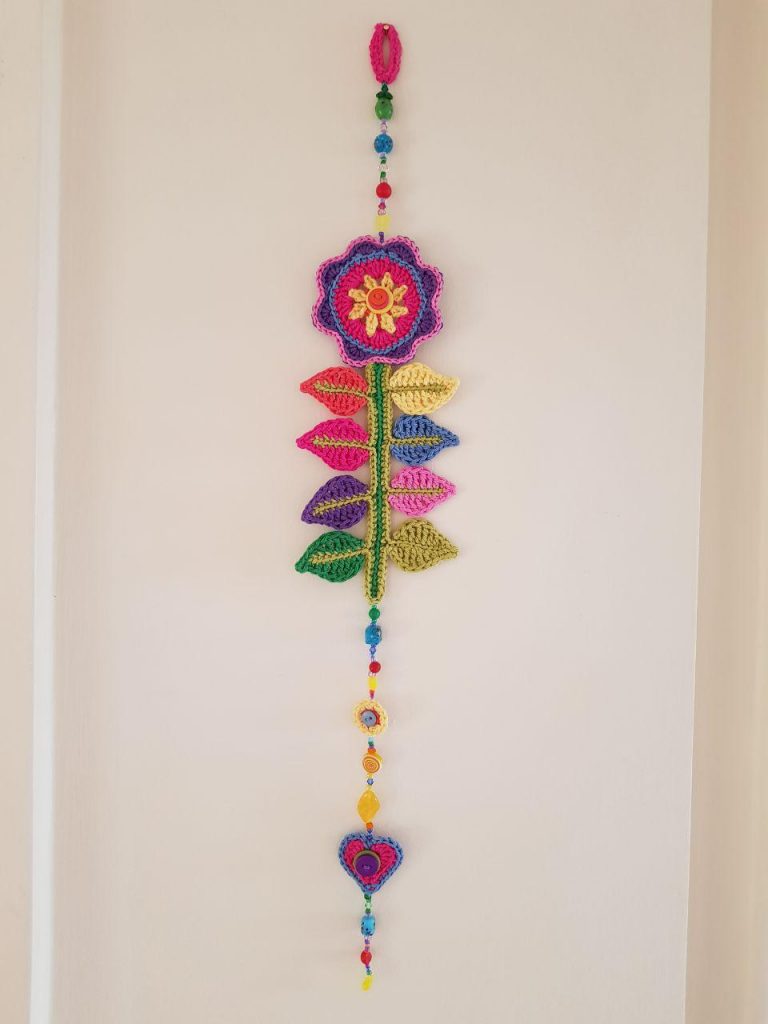 Attic24 Happy Flower Decoration
Scheepjes Catona – colour codes 522, 114, 247, 113, 519, 512 and 515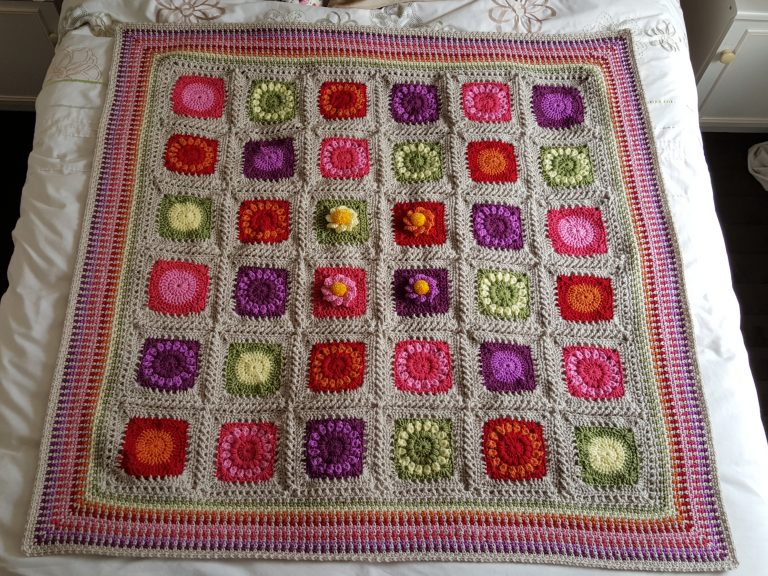 Knitting Network & Patchwork Heart Collaboration Flower Garden CAL
Patchwork Heart –Continuous Flat Braid Join
Attic24 – Linen Stitch Edging
Yarn: Stylecraft Special Aran – Parchment, Pomegranate, Lipstick, Fondant, Spice, Magenta, Plum, Lemon and Meadow
Stylecraft Special DK (for pom-pom flower centres) – Lemon and Sunshine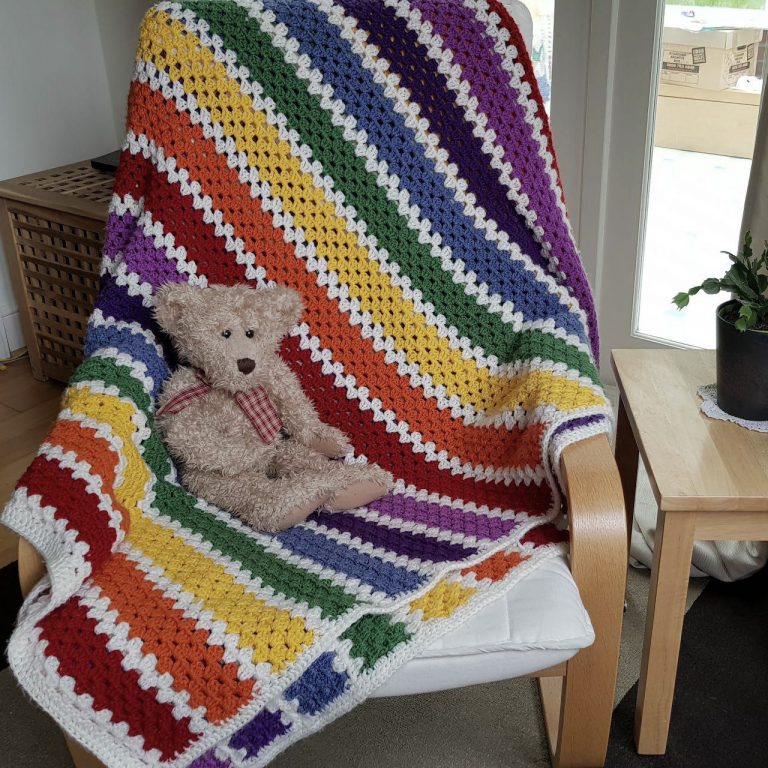 Granny Stripe Rainbow Blanket
LuAnn's Easy Crochet Pattern Blog: Crochet Granny Stripe Afghan Tutorial
Yarn: Red Heart Lisa – Fern, Airforce, Purple, Lilac, Nature, Cherry, Pumpkin and Yellow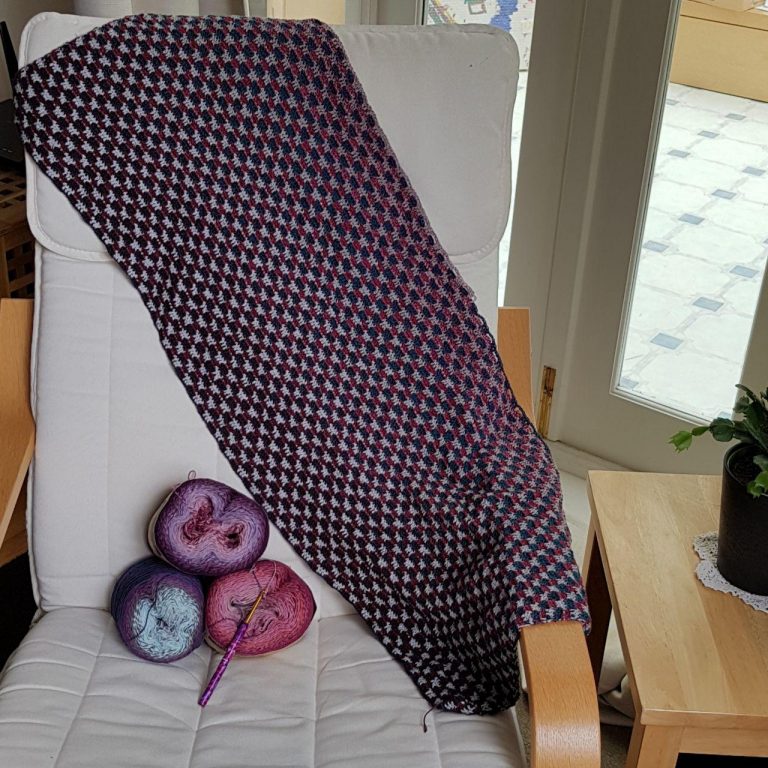 Felted Button – Trio Blanket  (01 May 2018 WiP)
Yarn: Scheepjes Whirl – Tasty Nom Nom, Blackcurrant Squeeze Me and Cherry Pie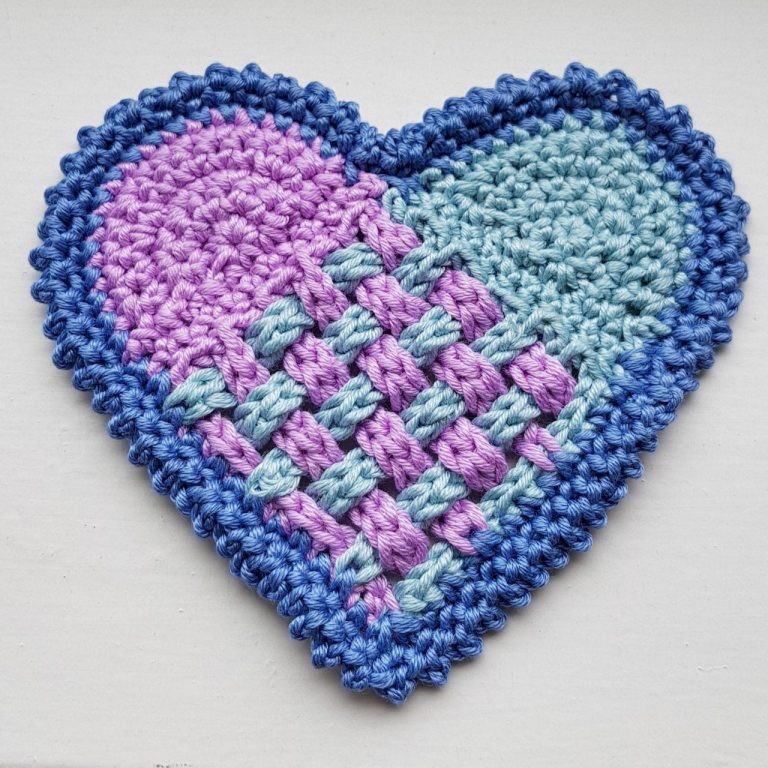 Haak Maar Raak – Scandinavian Heart Motif
Yarn: Rico Essentials Cotton DK – Jade Green, Pigeon Blue, Violet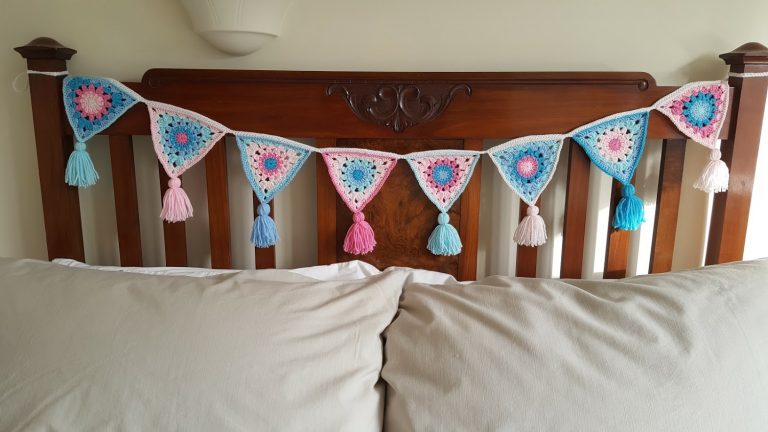 Loretta Grayson – Rett's Flower Bunting Pattern
Yarn: Stylecraft Special DK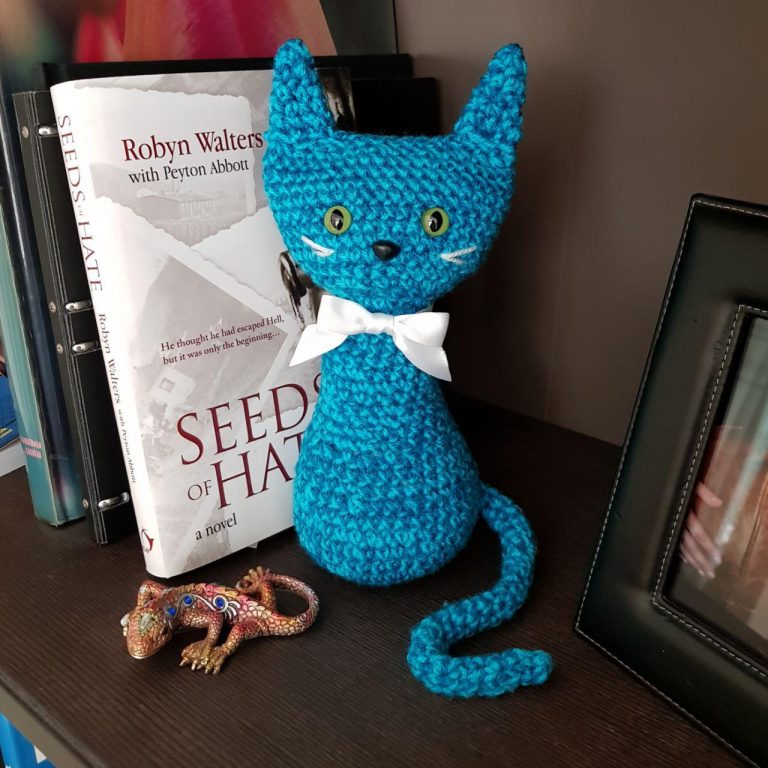 Crochet Cat pattern by Repeat Crafter Me
Yarn: Stylecraft Special DK in Empire and Turquoise
Safety Eyes and Nose by Trimits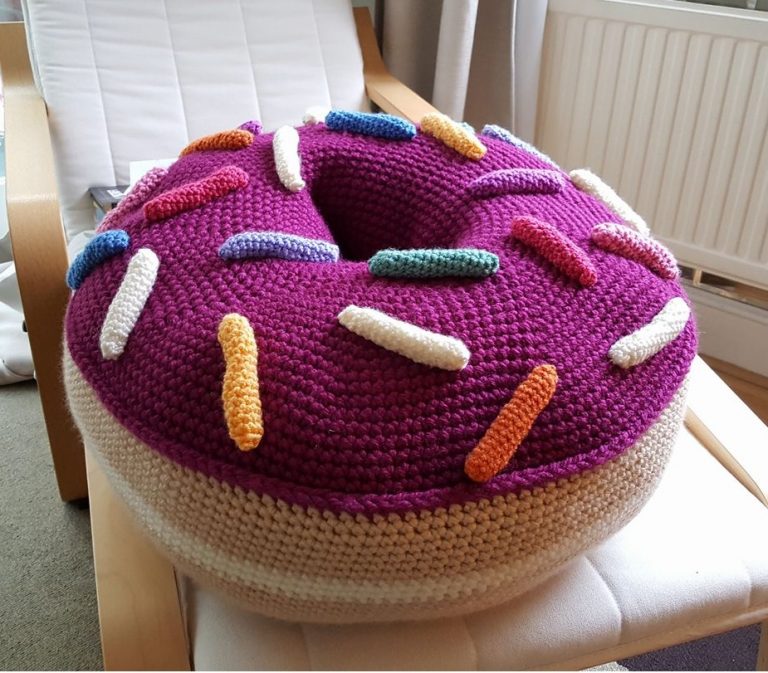 Pattern: Twinkie Chan/Lion Brand Yarns – Giant Donut Floor Pouf
Yarns
Donut base: King Cole Big Value Super Chunky Champagne and Sand. The frosting in whatever colour you like – this version is in Cerise.
Sprinkles: Stylecraft Special Aran in Spice, Saffron, Cream, Sage, Lavender, Fondant, Raspberry, Magenta and Aster
Filling: Trimits Supersoft Toy & Cushion Filling
~~~~~~~~~~~~~~~~~~~~~~~~~~~~~~~~~~~~~~~~~~~~
Books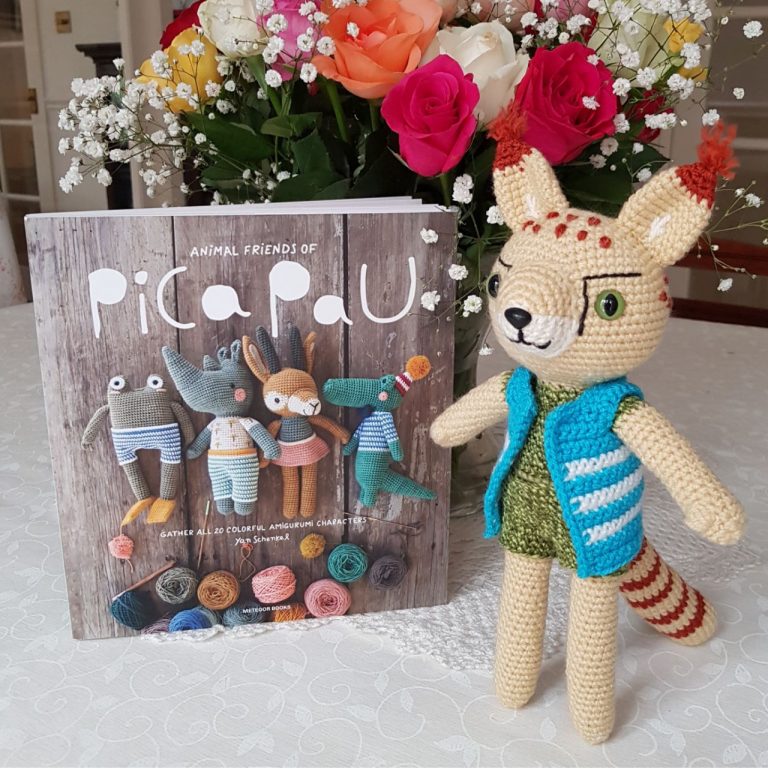 Animal Friends of Pica Pau by Yan Schenkel
Stylecraft Special DK in Buttermilk, Copper, White, Cream, Greengage, Turquoise
Drops Love You 7: Black