I'm a huge fan of vintage clothes…I sometimes think I was born about a hundred years too late when it comes to fashion. Fortunately, I am not alone.
With the resurgence in knitting and crochet, vintage patterns are reappearing many decades after they were first printed. More and more crochet artists are creating and publishing vintage inspired designs. This makes me one happy crocheter.
Nine months into my crochet adventures back in 2015, I went looking for lacy scarf patterns to crochet for my soul sister Robyn.  At work, Robyn's desk was under an air conditioning vent that blew chilled air straight at the back of her neck.  I remember well my office days and how utterly miserable it can get if you're stuck under a vent.
I'd made Robyn a few scarves by this point, but they were thick and best suited for cold or chilly outdoor weather. Robyn and I thought a lacy scarf would be a perfect barrier against the chill of the air conditioner indoors.
I immediately fell in love with the vintage vibe of Mary Jane Hall's book Colorful crochet Lace – 22 chic garments & accessories. At the time, I wasn't confident with following text patterns so I was relieved that Mary Jane also wrote charts to sit alongside the text.
The first piece I made from the book: the Juliette Scarf. The first three times I crocheted the scarf, I followed the pattern exactly.  Robyn wanted neutral colours so they wouldn't clash with her work uniforms.  We chose King Cole Bamboo Cotton DK in Earth and Oyster, and Cascade Ultra Pima Paints in Desert Sage for the third. They all turned out beautifully soft, silky and worked well for Robyn against the air con chill.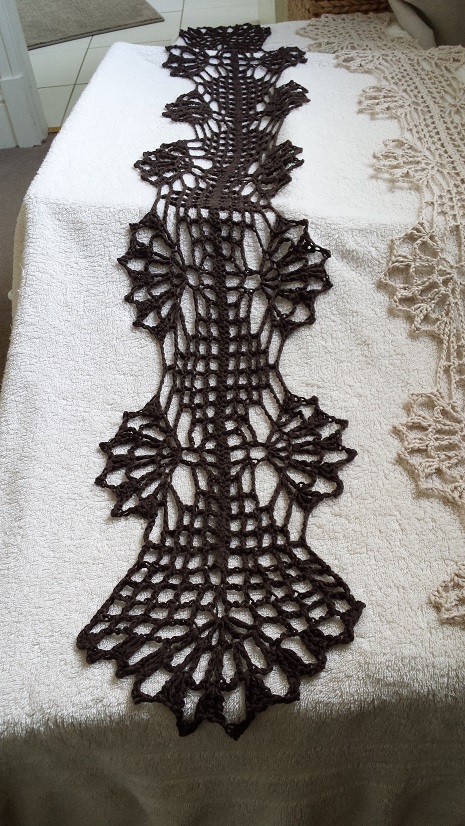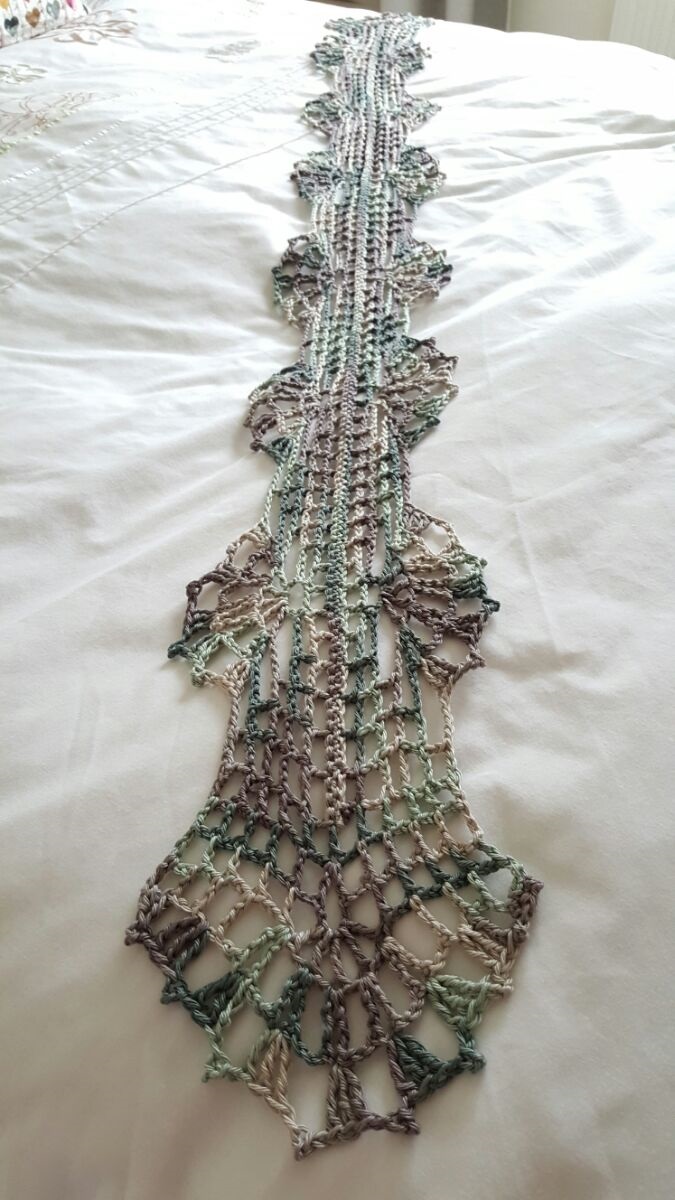 I made a few more of these scarves for Robyn, my cousin and Auntie.  This one with Cascade Ultra Pima in Magenta.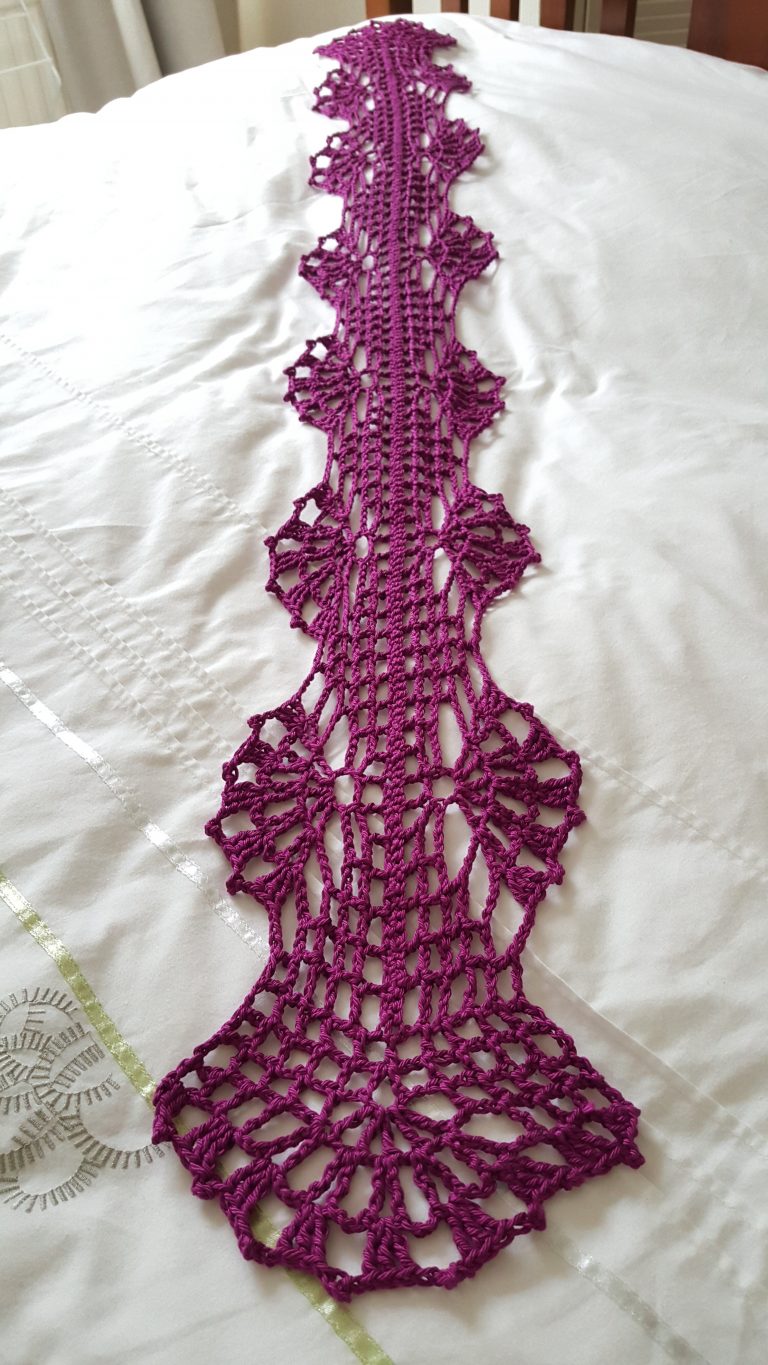 This next one, for my Aunt,  is made using two strands of two-ply held together: Rico Essentials Crochet in Silver Grey and Rico Essentials Crochet Print in Linden Mix.  My Aunt loved the colours in the Cascade Ultra Pima Paints Desert Sage that I made for Robyn, but when it worked up, the end result was a rather posh hunter looking scarf.  As an animal lover, I didn't think my Auntie would care much for the colour pattern.  Using the Silver Grey with the Linden Mix toned down the camouflage, creating a muted look.  I added an extra fan section for a slightly longer scarf.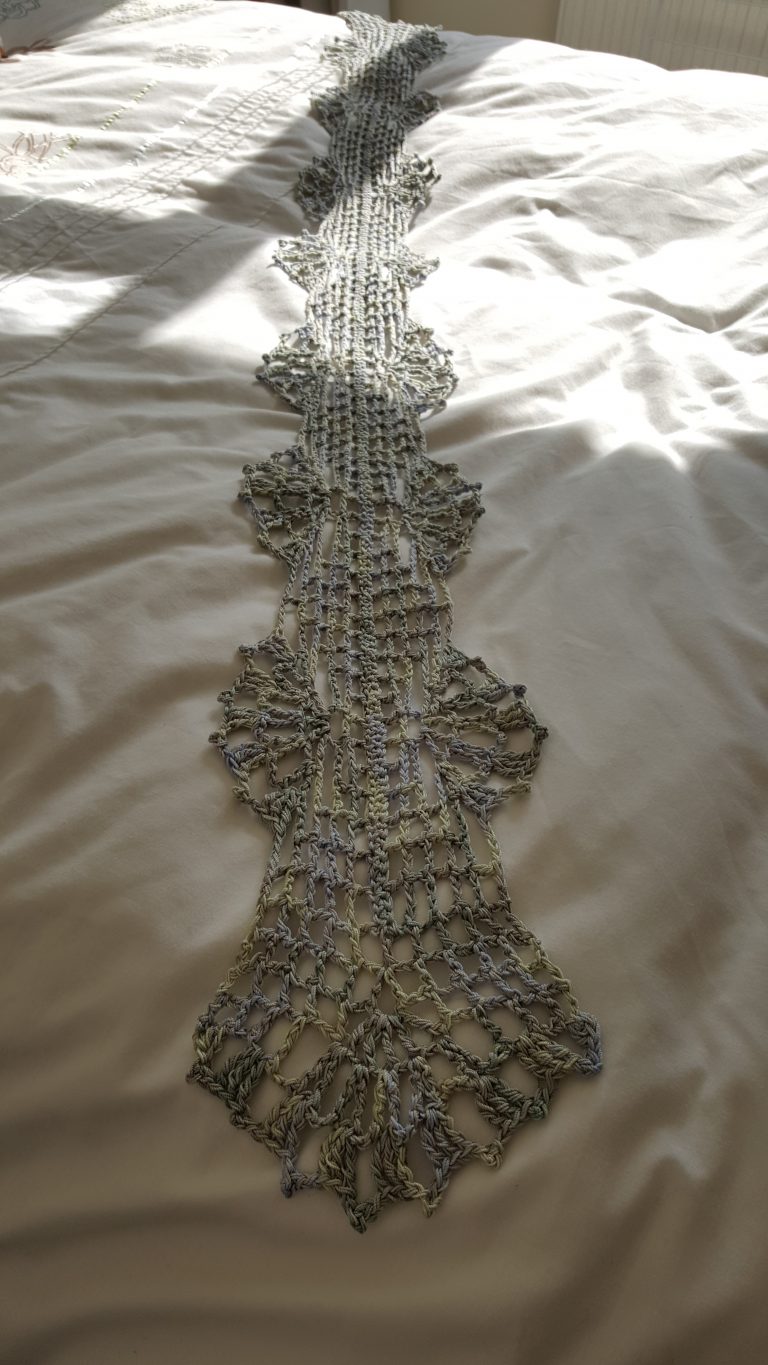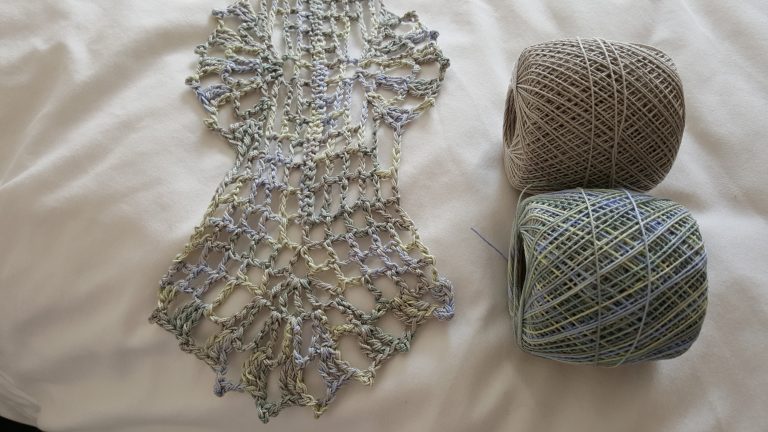 This one is made in Rico Cotton Essentials Orchid – also with an extra fan.  It photographed a brighter pink than it actually is.  The piece may have been damp  when I photographed it which could also explain the brighter pink colouring.  I made this in memory of my husband's Grandma Lora (legend), who included soft pinks among her favourite colours.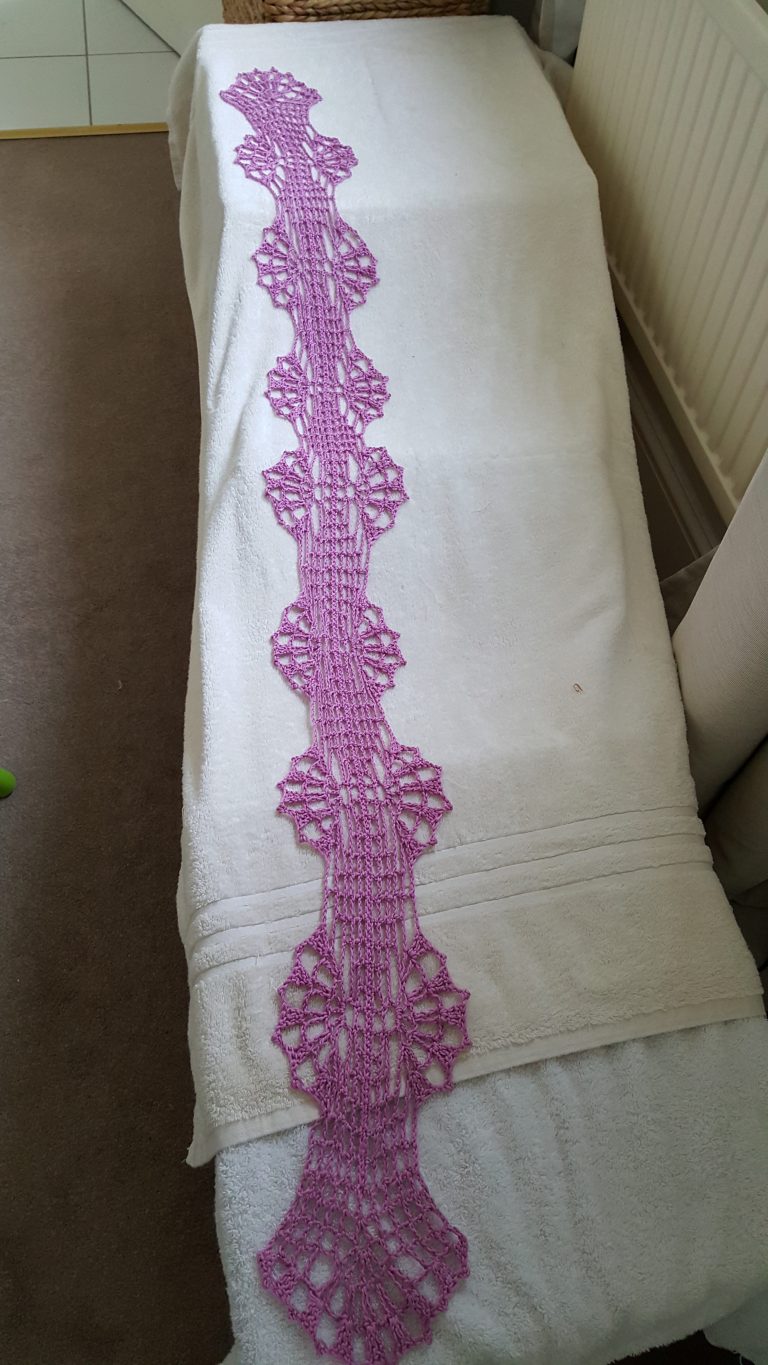 My second piece I crochet from the book – La Vie en Rose rectangular shawl. This was for my Aunt who was going to a summer wedding and wanted a light wrap for the occasion. We settled on Scheepjes Stonewashed in Deep Amethyst.  The shawl can be worn as either as a shawl or a scarf.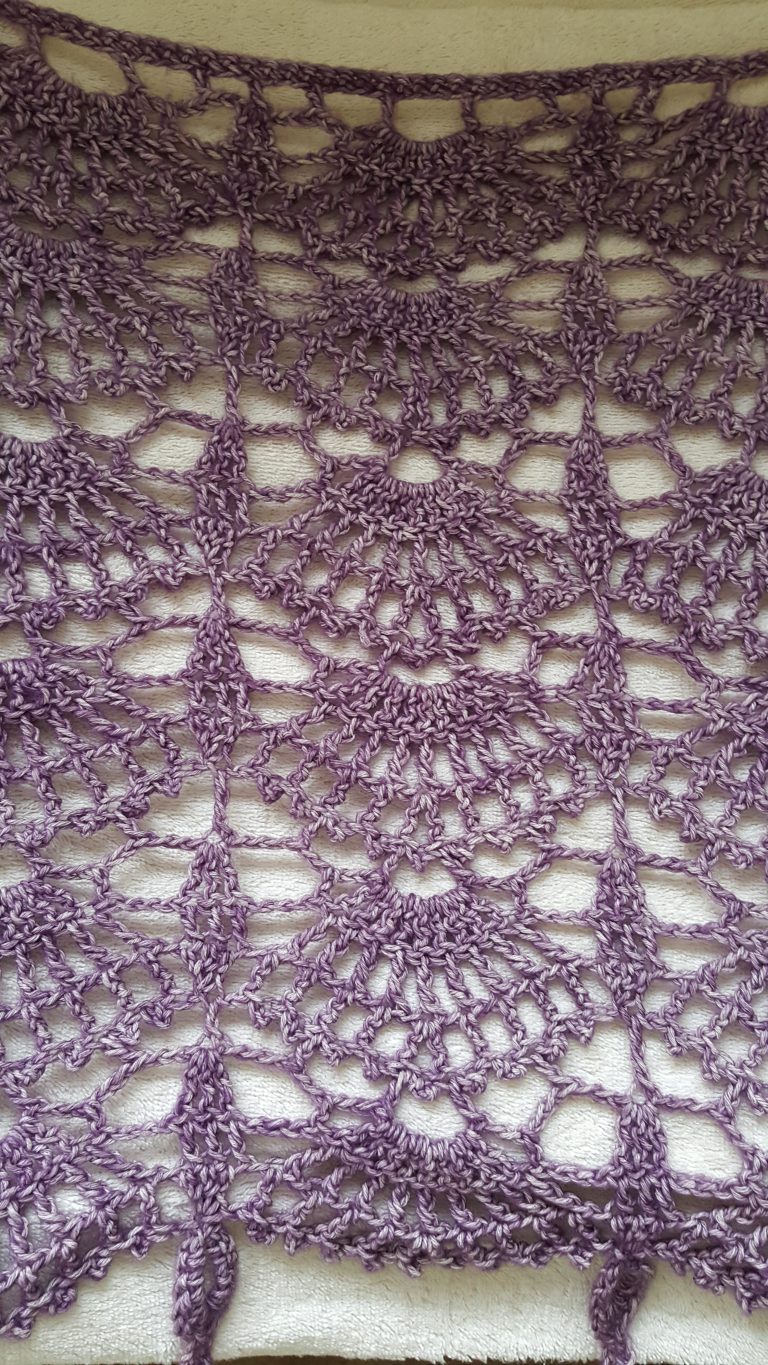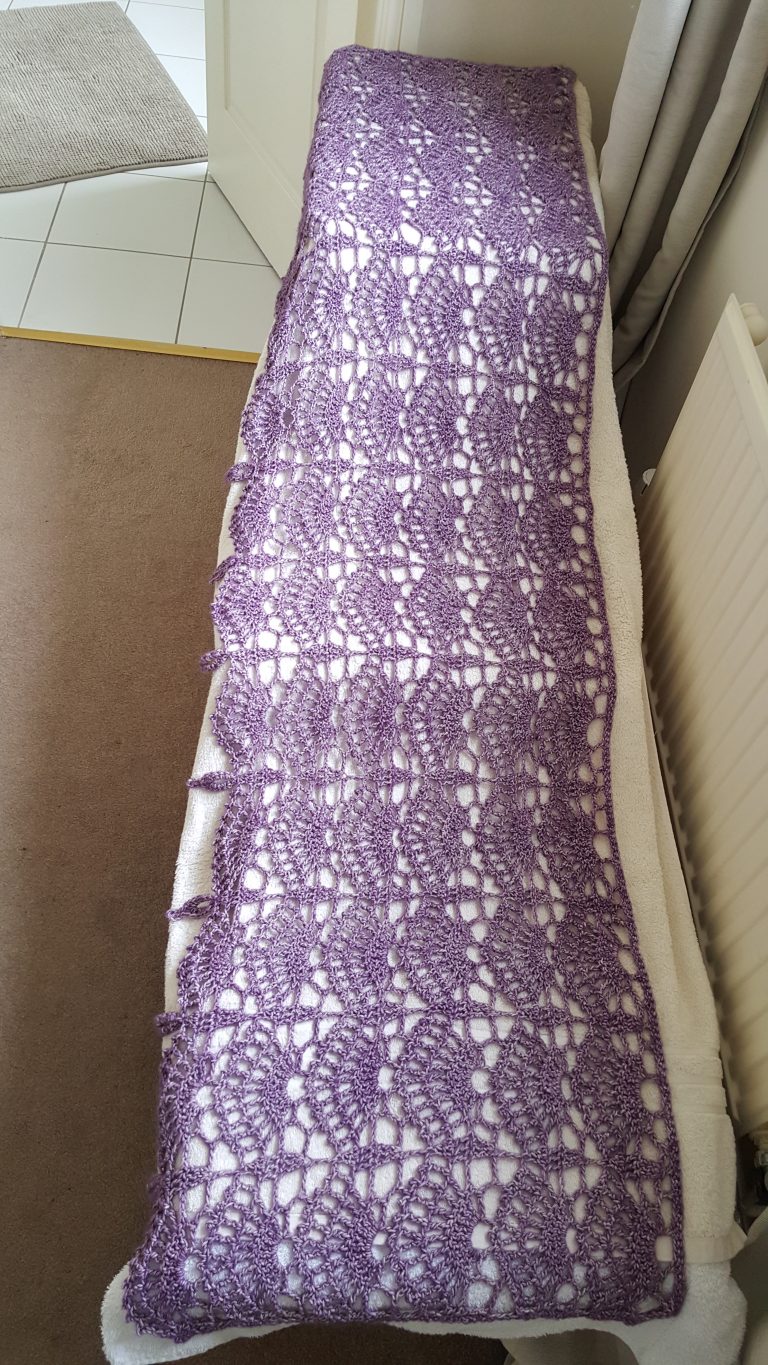 The last scarf with a vintage vibe I want to share, is the Wrap It Up by Carrie Carpenter.  The pattern is in both text and chart formats.  I found it relatively  easy to memorise.  I made one using Stylecraft Special DK Khaki and the other in Rico Cotton Essentials DK in Plum.   The Stylecraft is an acrylic and warmer – nice for when the weather starts to cool in Autumn.   The cotton Rico is a bit cooler, great for cool but not cold days.  I decided to block the plum one to accentuate the open work pattern throughout the scarf.  These were for Robyn…she picked the Khaki…I wanted to throw a bit of colour at her so she let me pick out the plum.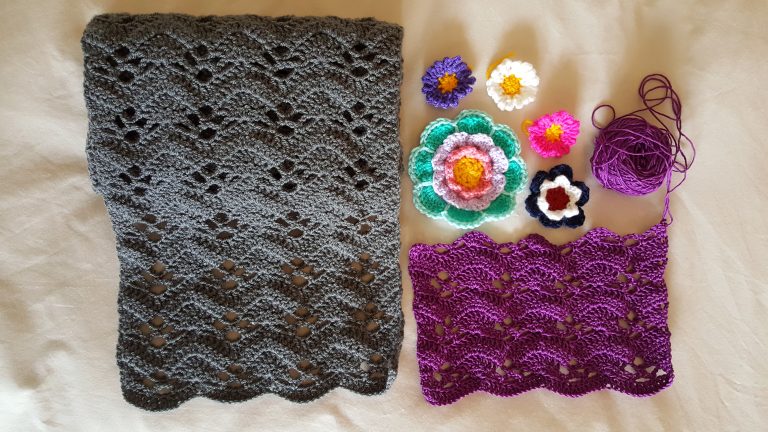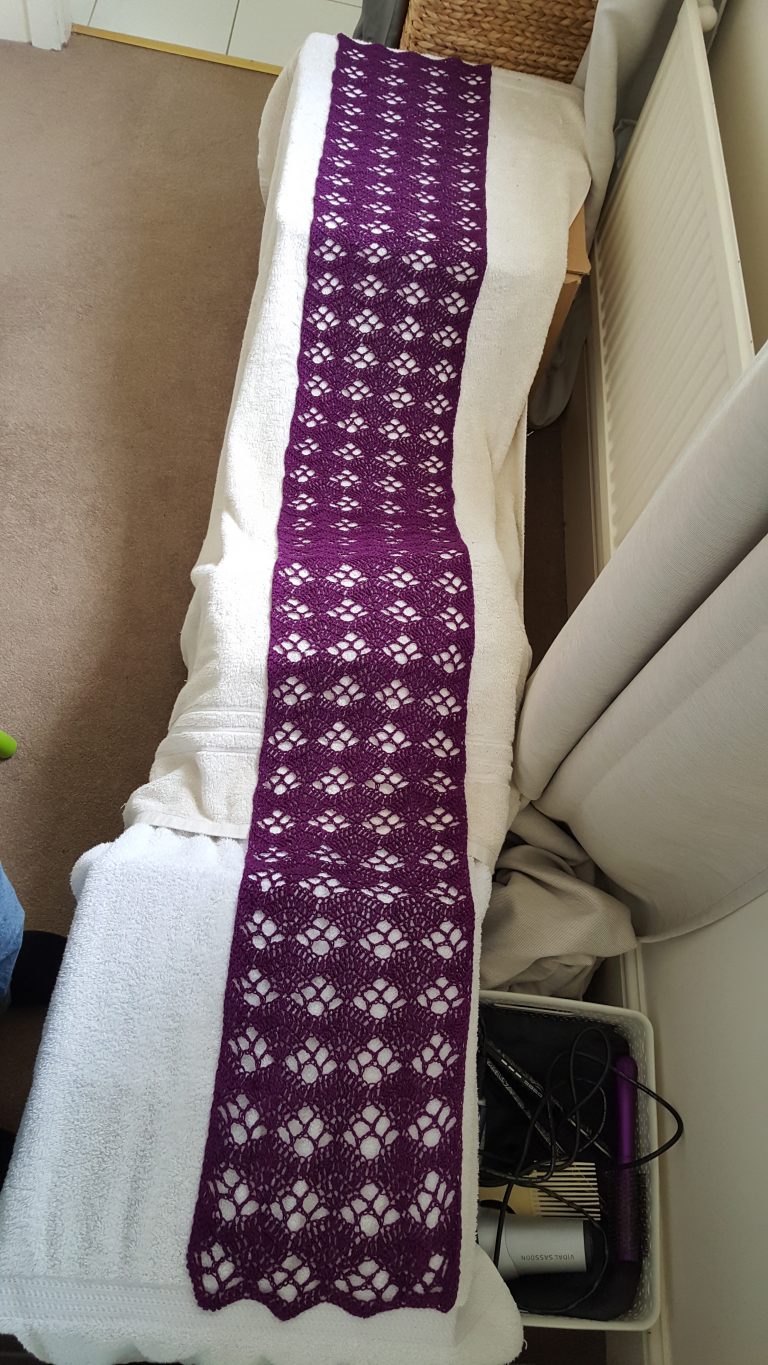 My pictures for all of these pieces don't do them justice. I had no idea at the time I'd start a blog  – I took pictures of everything to keep a record of what I'd done.  I'm glad I did!
I have found scarves to be a great way to improve crochet skills. Relatively quick to work up, there are loads of beautiful patterns to help you learn new stitches and improve your technique.
The patterns in the Colorful Crochet Lace are not too challenging so long as you have a decent handle on your tension – you'll need to be able to chain loops consistently the same size.  With openwork crochet such as this, there is no hiding mistakes or tension inconsistencies.  The Wrap It Up Scarf might be a bit easier.  You'll need to know how to increase and decrease your stitches to get the ripple.
At first, I did struggle following the written patterns in the book so I followed the charts – referring to the text as I went along.   It was this book with the charts that helped me improve reading written patterns so now I can follow both with relative ease.
To make following written patterns easier, I suggest using some sort of guide.   I use Clover Pattern Chart Markers.  I bought my set through Amazon.co.uk.  Magnetic strips hold the marker in place.  They will slide a bit if you bump the marker or move the page. For the most part, they have worked well for me.
On my hook at the moment – the twin Ranger blankets.  The babies are due in a few weeks so I should have the blankets finished well before.  I have only the letter S to complete, then it is sewing them on to the 'canvas'.  As I bought more yarn than I needed, I'll be making bunting to match.
All for today.  Wishing you all a happy, colourful, yarny day!