I found a couple of pictures I took of blankets I made for a special couple near and dear to my heart.  The dark blue blanket I thought I'd forgotten to photograph.  I was pleased to discover I hadn't.  So much more than just blankets with tons of love into each stitch.  Warm hugs from across the miles I like to think.
The yarns are both from a project that featured in my January 2018 Disaster Dahling post.  Rather than continue to fight combining colours together that really didn't belong in the same blanket, I bought more of each colour and created 2 blankets, with a third, the purple, remaining in my Frog & Redo queue.  (Fortunately I only have two F & D projects.  :D)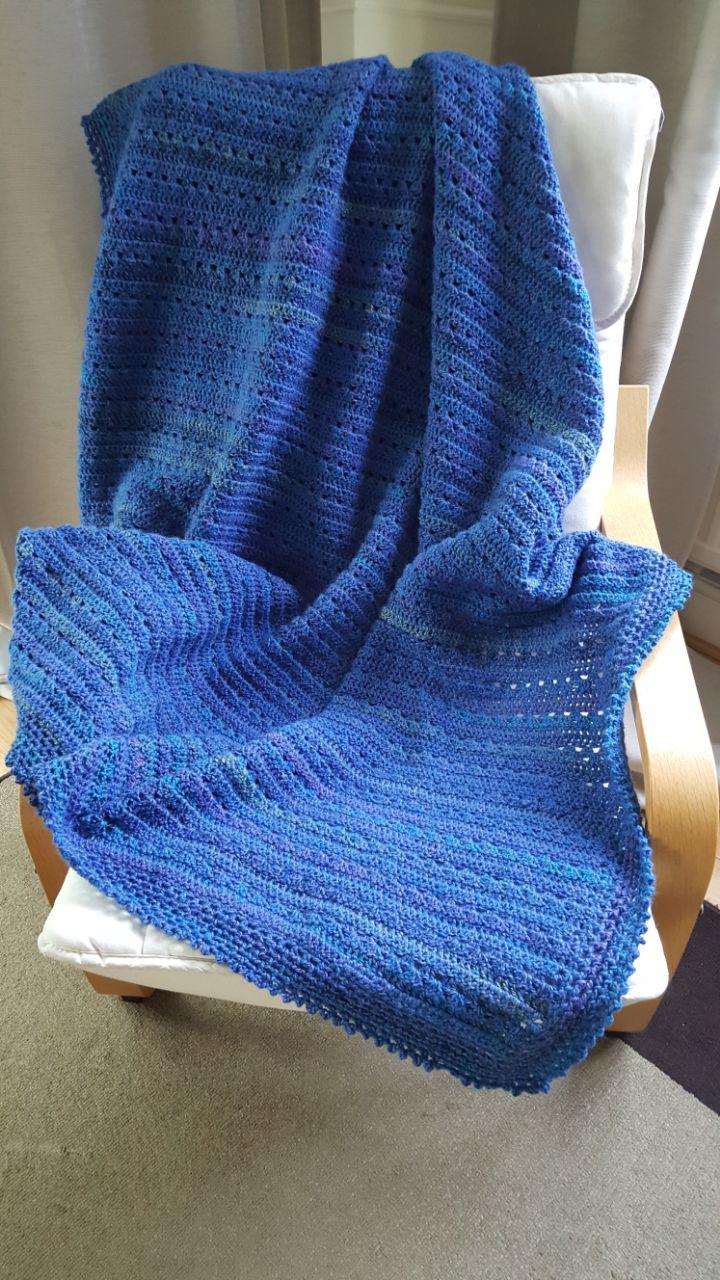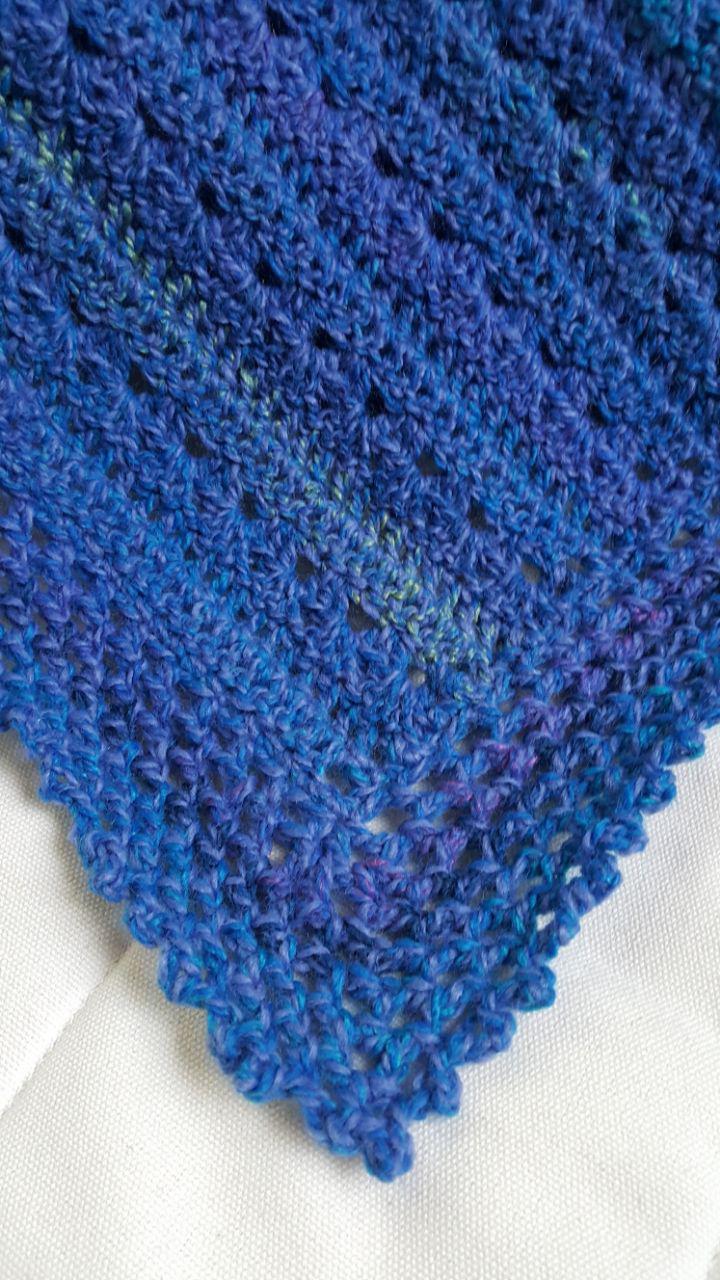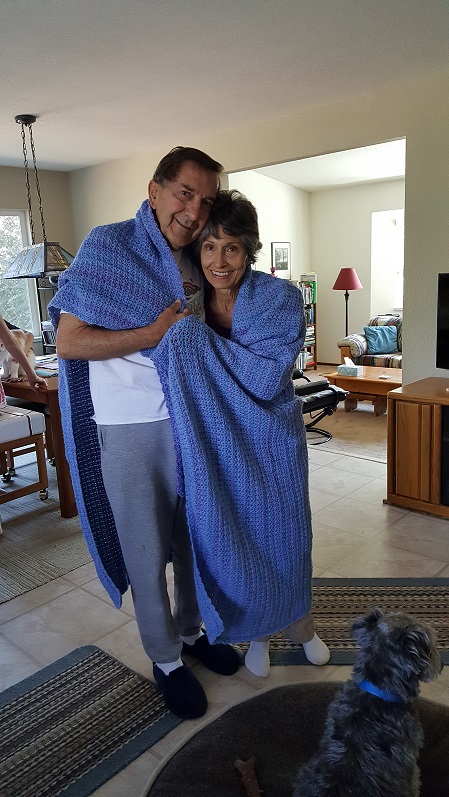 The darker blue James C Brett Marble DK colour has since been discontinued – making it an even more unique blanket.  Attic24's easy pattern consisting of alternating 2 rows double crochet and 2 rows double crochet granny stitch, adds a lovely texture to this variegated yarn blanket.   The pattern works up quickly and keeps a sizeable single colour project such as this interesting to crochet.
The light blue is crocheted in a V-stitch, another great technique for variegated yarn.   It also is quick and easy to work up.
I continue to progress with the twin Rangers baby blankets using my favourite go to stitch combination by Attic24.   As in the variegated yarn blanket above, the stitches add a lively dimension to large areas of a single colour.   The yarn is Stylecraft Special DK in Parchment, Lobelia and Claret.
Doing the blankets in tandem is a fantastic way to ensure the blanket sizes match.  Alternating from one colour to the other keeps the project interesting as well.
Consistent tension is a skill that for me, is taking quite a while to master.  With this project, I'm thrilled to see that I'm maintaining even tension.   This is important as the blankets need to be as identical in size as I can make them.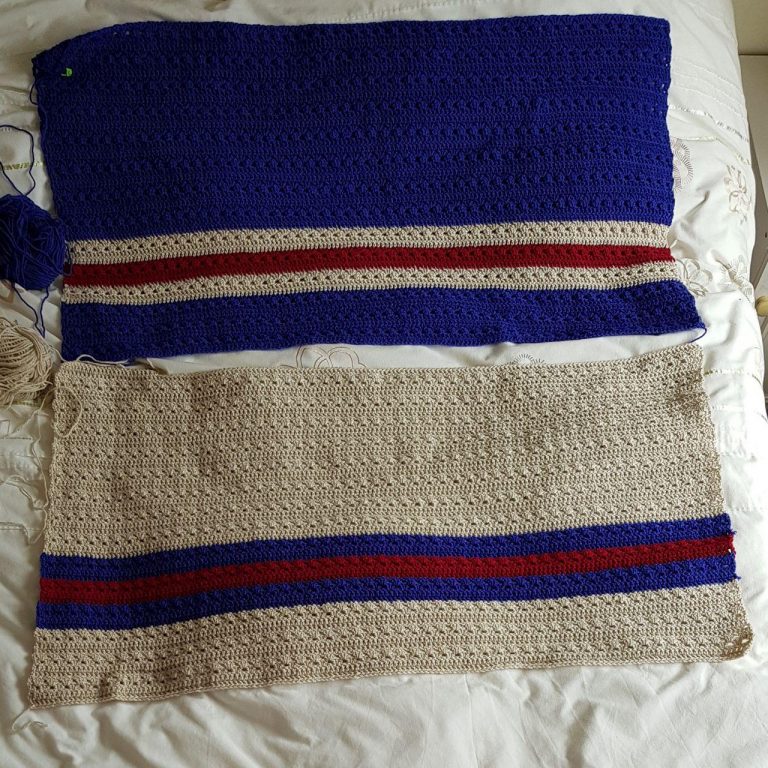 My width, which has always been a struggle with blankets no matter the size, is even throughout.  A small victory.  🙂
I'm about 4 rows away from the halfway point for each blanket.  My next hurdle after finishing the body will be the letters.  Not just making them but also neatly sewing them to the blanket. That is another couple of weeks off at least so plenty of time to strategise.
Back to the blankets for me…hope y'all have a beautiful, yarny day!