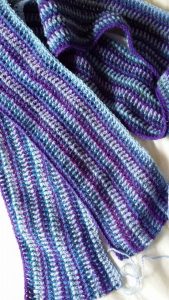 "Disaster Dahling", a phrase made famous by a certain ballroom dance show judge, aptly describes this attempt at a blanket in March 2015. I had only been crocheting regularly for about 3 months.
One of the issues with ordering yarn you are not familiar with online is that the colours you may see on your screen will not be the true colour.  Especially with variegated yarn. Close-up photography, professional lighting, the camera's colour interpretation and your display can often exaggerate subtle colour blends and tones.
Upon receiving my tri-colour concoction, I tried many different stitches and patterns. I bought more yarn.  That purple just would not sit well with the two blues.  I ended up with 34 100gm balls – for one queen size blanket.   That I didn't touch.  For 2 years.
Spring 2017 the promised blanket still unmade, my solution to the tri-colour nightmare was to make 3 different blankets.  A bit more experienced, I figured that 15 balls would be about right for one blanket with a nice border.  I had 10 in each of the blues.  Time to buy more yarn.
I finished both blue blankets in August 2017.  The pale blue I did in a v-stitch and the darker blue in Attic24's Cosy Stripe pattern. Both ended up twin(single) sized.  I did okay with gauging how much yarn I would need.  I have very little left of one colour and 1 ball and a bit of another colour. I only have the in-progress photo as in my haste to ship these off, I forgot to take pictures once they were complete.
The purple remains a challenge I've yet to conquer.  To make it harder on myself, months ago I bought a solid fuchsia yarn because I didn't like the idea of a solid purple blanket.  The in progress is currently awaiting frogging for the umpteenth time.
I welcome any ideas. 😉