Hello everyone!
It has been far too long since I last wrote a blog post.   The truth is, I've had a bit of writer's block and procrastinated.  Instagram has also entered my life and where I've been posting quite a bit about my yarny adventures of late.  Without further ado…
My daughter and I went to the Yarndale festival that was held the weekend of  29 -30  September 2018 at the Skipton Auction Mart in Skipton, Yorkshire.  We loved it!  I think I put off writing this post just so I could revisit the experience weeks later.
This is a bit of a long read, so I  hope you are cosy and comfortable with your fave beverage in hand.   With it being a bit nippy here in the 'shire, I've got a lovely hot cocoa to keep me going.
A snippet about Yarndale for those that haven't heard of it.  The first Yarndale Festival was held in September 2013.  Since it's inception, Yarndale has made fundraising for local charities a part of the festival.  Yarndale has been a huge success, growing year on year and raising thousands for charity.  2018 was the 6th festival.
It took me a while to decide whether or not to make my first Yarndale trip this year.  Here in the UK, car parking is an issue – as in not enough or nearly non-existent – and for me, one of the most stressful aspects of car travel.  Public transport wasn't an option for us as the costs were prohibitive and there was a reduction in services due to engineering work that weekend.  There was a local yarn shop doing a mini bus trip, but my daughter and I both suffer with motion sickness and the front seats of the mini bus had already been claimed by suffers of the same.   If I wanted to have my first Yarndale experience, my only choice was to drive.
The prospect of meeting blogger yarn artists I have admired and learned from proved to be irresistible.  So excited was I, I ordered a set of mini cards from Moo.  They make great little bookmarks too!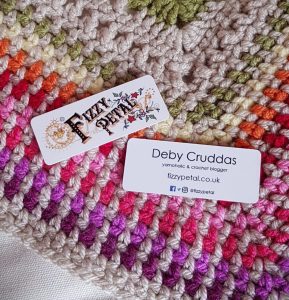 At dawn that crisp, dry Saturday morning, with tickets in hand, decked out in handmade accessories and with travel munchies for the journey, my daughter and I set out on our first yarny adventure together.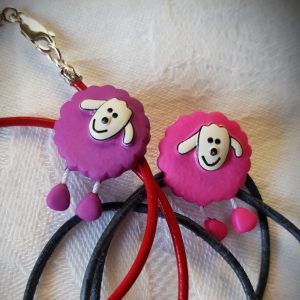 We had never been to Yorkshire.  The scenery was breathtaking – I so wish I had photos of our drive to share with you.  Low lying fog covered the sleepy valleys in fluffy silver blankets while the hill peaks stood guard against a bright blue sky – the rising sun casting a warm orange glow over it all.  Lots of 'ooohs and aaahs' between my daughter and I on our journey that morning;  we couldn't have asked for better weather.  It was a beautiful start to what would be a most enjoyable ladies day out.
We made good time to Skipton and were one of the first cars to arrive at the Skipton Building Society Car Park where a park and ride service, in exchange for a nominal donation, had been organised with the local Rotary Club.   What a relief to not have had a struggle for parking; I could relax and really start to enjoy the day.
There was an accident, up the road from the car park, that delayed the arrival of the mini-buses so my daughter and I decided to walk over to the auction mart.  Equipped with maps provided by the friendly car park stewards, we made our way towards the cattle mart.  I'm actually rather glad the buses were late as we would have missed the opportunity of visiting the Attic 24 studio situated over Cooper's Cafe along the route to the festival.
I have long admired the work of Attic 24's Lucy.  My daughter and I stopped in to the famous Coopers for breakfast and enjoyed delicious sausage and bacon sandwiches – a welcome treat after our early morning travels.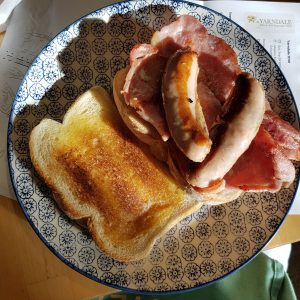 While there I had a little nose around Lucy's delightful creative space.  So great to see it in person after having seen glimpses of it on her blog over the past few years.
Breakfast consumed, we set out again.  The route to the auction mart took us through a gorgeous park.  A cheery crochet sign pointed the way to the park entrance and marked the start of the 'Yarn Walk'.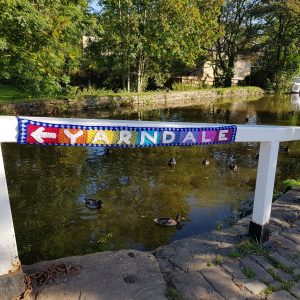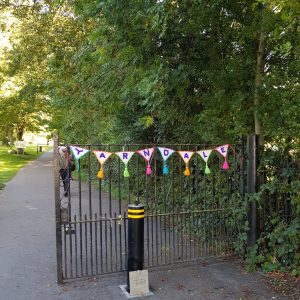 Festival organisers marked the route to the auction mart with lots of woolly creations in the form of signs, bunting and light pole wraps creating a wonderful festive vibe.   Excitement and anticipation of what was to follow were felt in equal measure.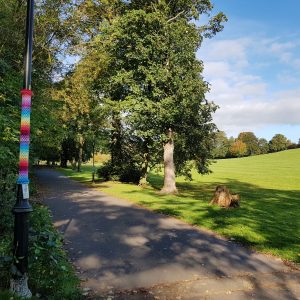 The park really was a beautiful space – all villages and towns should have a space so inviting.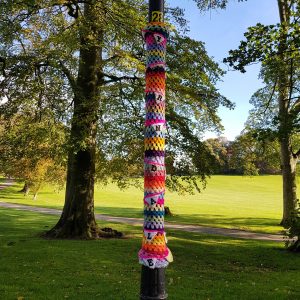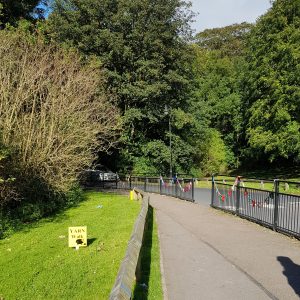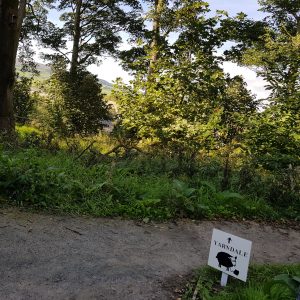 The last part of the route was on the top of a hill overlooking the auction mart.  I don't think I'll ever forget the view from that vantage point – I think it was then that I really fell in love with Yorkshire.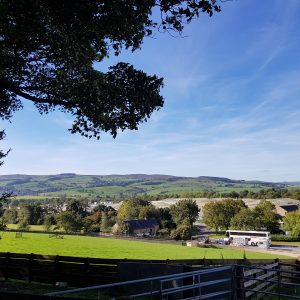 At the venue, eager visitors chattered away excitedly in neatly winding queues at the mart entrance – yarny art hung from the trees and decorated the lawns.  The organisers did a fantastic job at keeping the queues moving at a good pace so it wasn't long before we crossed the threshold.  With so much to take in I completely forgot to take pictures before we entered the venue.  Souvenir guide in hand and Yarndale wristbands on our wrists, we made our way into the entrance hall – and oh my, what a glorious, yarny sight!
The famous Yarndale bunting was strung overhead serving as a jolly, woolly canopy of happy.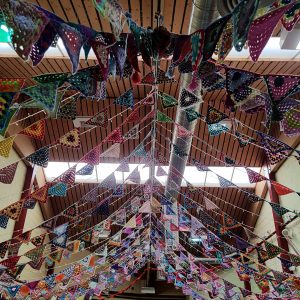 To the left, tables with Yarndale branded goodies and to the right, hundreds of yarn butterflies in a variety colours, shapes and sizes were laid out on tables ready to flutter away to new homes.  There were easels holding boards displaying a selection of some of the hand made butterflies, complete with the names and places the butterflies came from.  The time it must have taken to organise the easels – wowza!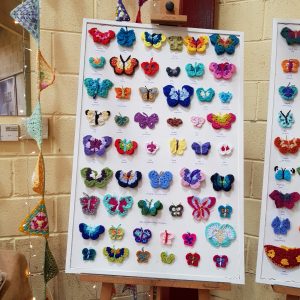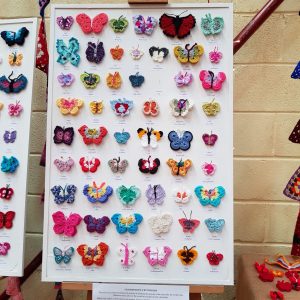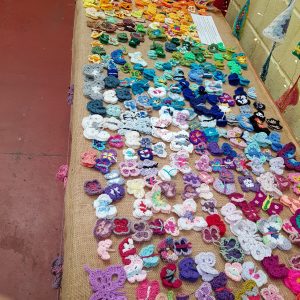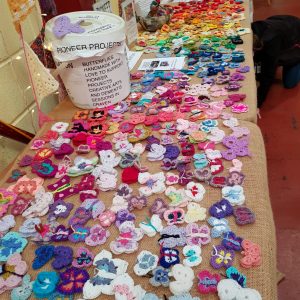 It wasn't until I was reviewing the pictures for this post that I'd noticed the woolly sheep in the image below are the very same used in the Yarndale merchandise graphics.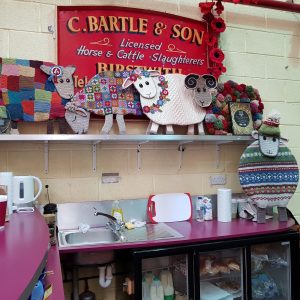 Further on there was a poppy installation that was designed by the local knitting group for the village church tower to commemorate the 100th anniversary of the end of WW1.  It was lovely to see it included at Yarndale – I rather wish I could have seen it on the church myself – the Yarndale guide did have a picture – it was beautiful and no doubt appreciated and admired by the community and visitors to the church while it was in place.
I struggled to get a decent picture of the installation because it was so long.  The narrowest part of the 'ribbon' appeared to float along the ceiling, widening as it travelled down the wall – the widest part draped over a table.  Hundreds and hundreds of poppies in varying crimson shades; a moving tribute and reminder of those who made the ultimate sacrifice.
There is a history to the yarny installations that grace the mart: every year, the organisers run a creative yarn project involving contributions from the fibre art community.   Previous projects were Granny Bunting Triangles, mandalas, egg cosies, flowers,  woolly sheep and hearts.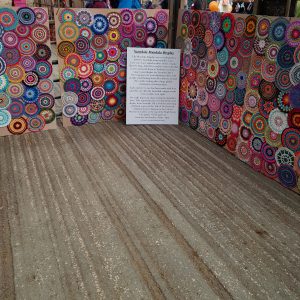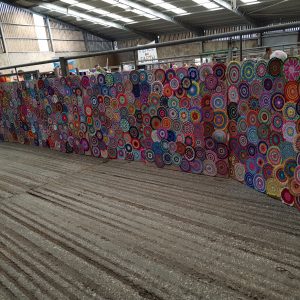 The Yarndale 2018 project was butterflies.  I made several and was absolutely delighted to see that one of them made it onto one of the display boards.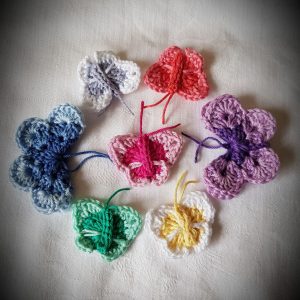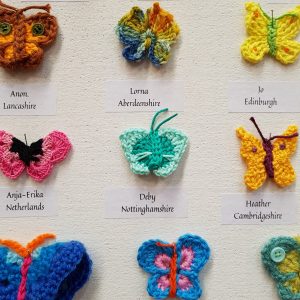 The butterflies were given in exchange for cash donations, a minimum of £2 each – the proceeds going to Pioneer Projects, a local creative charity supporting dementia patients and their families/carers.
Of course I could not pass by the Yarndale souvenir stand without making purchases!  For 2018, large gusseted tote bags were produced and I must say, they are fabulous!!  One for me and one for my soul sister in Colorado.   I also bought a couple of pens (too cute!) and a key fob – the fob now serves as a replacement zipper pull (the original one came off, I've no idea how) on my daughter's school rucksack.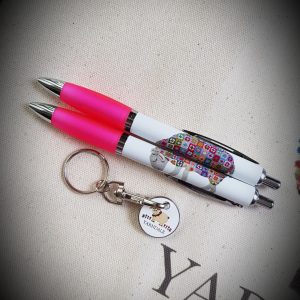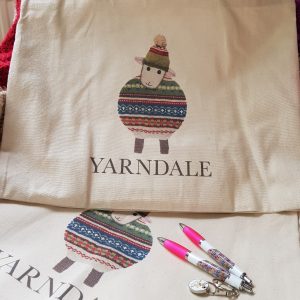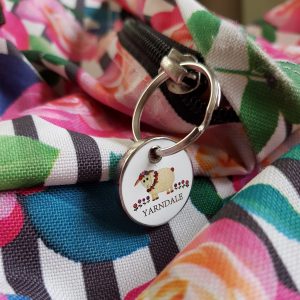 Beyond the entrance – the auction mart – a wondrous maze of stalls filled with all manner of creativity.  Yarn producers, textile and yarn artists, textiles, accessory makers and spinners as well a nice variety of National guilds.  I could have done with spending two days in Skipton as there were numerous stalls I would have loved to have spent more time visiting and photographing.  So much yarn to admire, squish and buy but not enough time!
Attic24's Lucy was hosting a Knit and Natter Lounge – I made a beeline to this as I wanted to thank Lucy for sharing her knowledge and creativity.  I have learned a lot crocheting Lucy's patterns and am in awe at her creativity and use of colour.  It was a good thing I stopped by her spot first, as later in the afternoon it was overflowing with visitors queuing for a chat and photo.  Wool Warehouse were there with her – that gave me an opportunity to thank them too,  for the excellent customer service they've provided over the years.  They have often gone above and beyond and are my online go to for all my crochet and knitting needs.  Can't recommend them highly enough!
On display were the many blankets Lucy has designed and crafted.  I wanted to take pictures of all, but in the end, settled on just one favourite.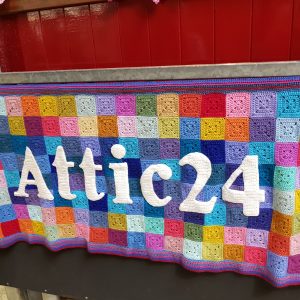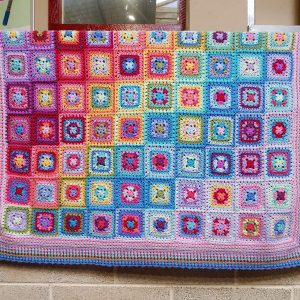 My next beeline was to the Scheepjes stand.  Scheepjes brought their bloggers – I was very keen to meet more of my yarny heroines before their stand got too busy.  They were all so warm and welcoming – I was both overwhelmed and starstruck – I just didn't quite know what to say so I probably came across a bit, well, gushy. So embarrassing, eeep!
I met Mr Scheepjes as well – in fact that was quite a comical moment – I thought he was one of the knit or crochet bloggers, much to the amusement of the Scheepjes creative director.  Mr Scheepjes is very tall, very nice and as a thank you to my daughter and I for helping Kirsten with the hot & cold drinks delivery from the refreshment stall back to the Scheepjes stand, gave me a lovely tin of biscuits.  To be honest, my motivation was purely selfish: I had wanted to chat with Kirsten – as it wasn't her shift on the stand for another couple of hours – helping her ferry back the much needed sustenance was an opportunity I couldn't pass up.
The biscuits were delicious…my family and I enjoyed them very much.  Thank you Mr Scheepjes!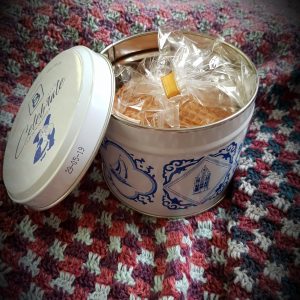 The tin of tasty biscuits wasn't the only thing we took away from the Scheepjes stand that day.  My daughter spotted a book on their shelves that has been on my wish list since it was released – Laly Lala's Beetles, Bugs and Butterflies.  My daughter picked out a creature from the book she wanted me to crochet and chose colours from the Scheepjes Stonewashed XL range.  Lovely, inspiring people all of them and so worth the travelling to meet!   With book, yarns and bonus tin of biscuits in hand, we said our goodbyes to the lovely Scheepjes bloggers and stand to continue our Yarndale tour.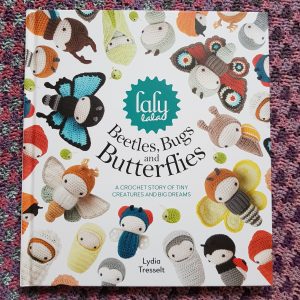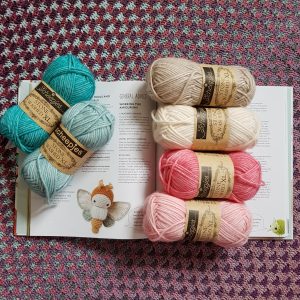 The Skipton Embroider's Guild had a stand where visitors were encouraged to sit down and try their hand at embroidery.   There was beautiful needle work on display.  My daughter and I spent a very relaxing hour or so at their stand making little lavender filled fabric house sachets.  Very cute and easy to make!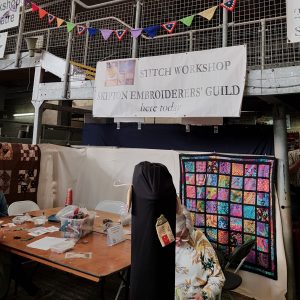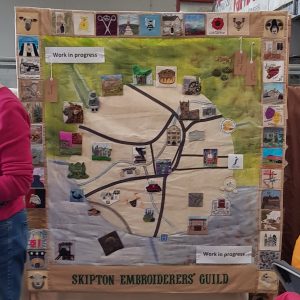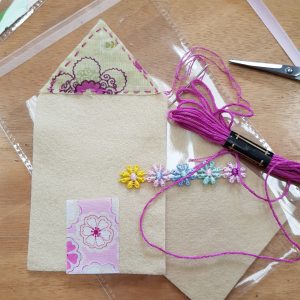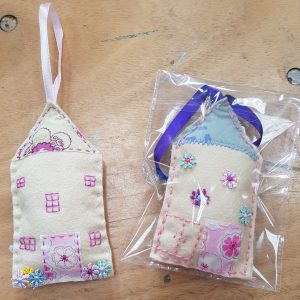 Wool Couture was the only other yarn vendor I managed to get photos of.  Their yarn is MASSIVE!  Making a blanket from the giant yarn is on my wish list…it looks like such fun!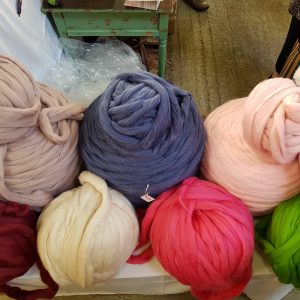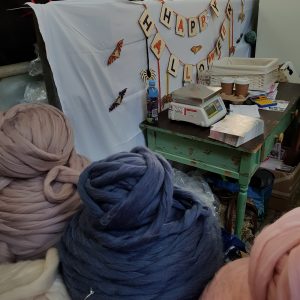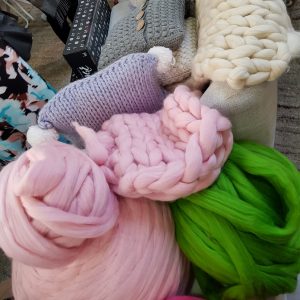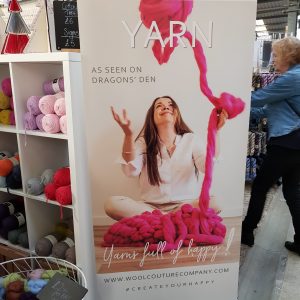 At around 3pm my daughter was starting to get quite tired having been on the go since 6am.  I have to give her props for wanting to still come with me when she was in the midst of a wicked cold.  We did a quick tour of the rest of the mart – stopping to greet a couple of sleepy sheep, ending up at the refreshment halls where we purchased hearty steak pies that we munched on as we walked back up to the yarn walk.  Because I missed out taking photos on our way in to the mart, I took some last minute photos of all the yarn art at the entrance.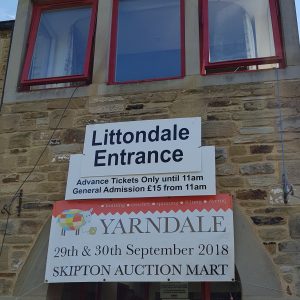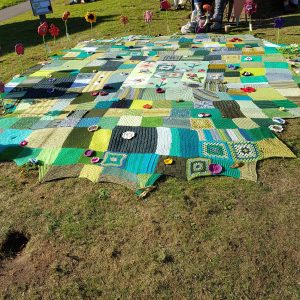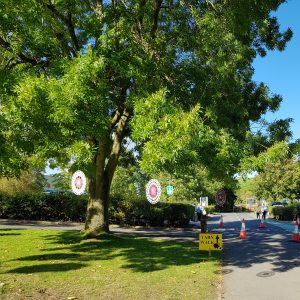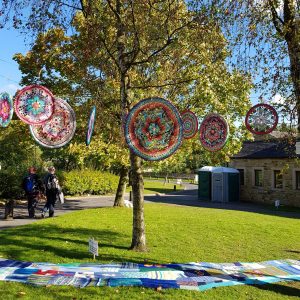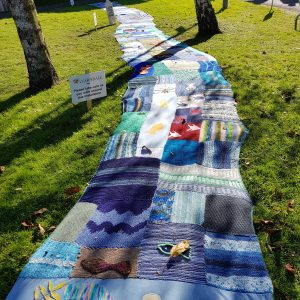 We decided to walk along the canal back to the town centre that would eventually lead us back to the car parking.  My daughter and I chatted away, capturing our journey with selfies and scenic pictures.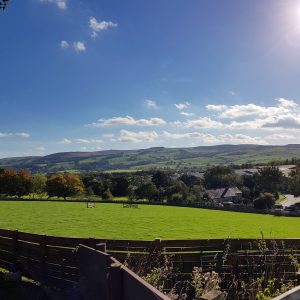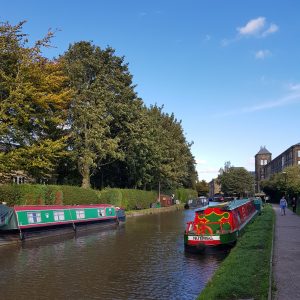 Back up on the main drag, we came upon a charming creperie and decided since it was a bit cold out we needed to warm up and have a sweet treat before setting out on our 2+ hour drive back to Nottinghamshire.  The crepes were so yummy and reminded me of my trips to Paris years ago.  We will visit again when we are next in Skipton!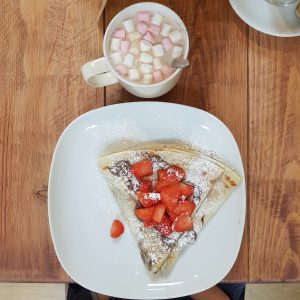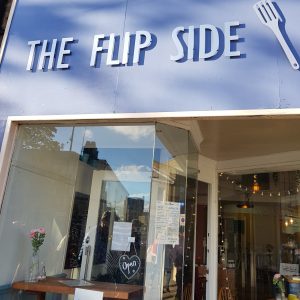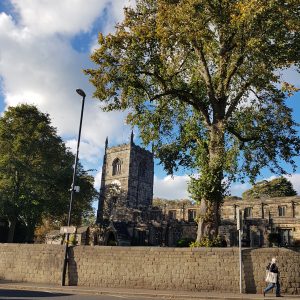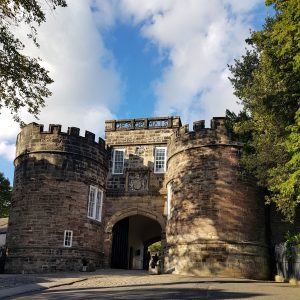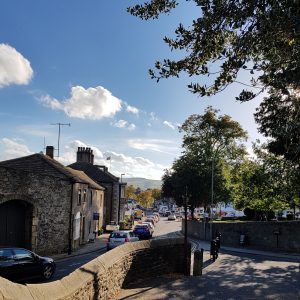 Refuelled, we reluctantly said our goodbyes to Skipton, vowing to return again as a family some day.
If you fancy a visit to Yarndale, the next festival is the weekend of 28 & 29 September 2019.  You can book tickets via their website in early 2019.  If you can't make it to Yarndale but would like to participate in their community project, check the Yarndale website periodically for updates or follow Yarndale on Facebook, Instagram or Twitter, where details of the 2019 community project will be announced.   The website also has an online shop where you can pick up a little piece of Yarndale for yourself.