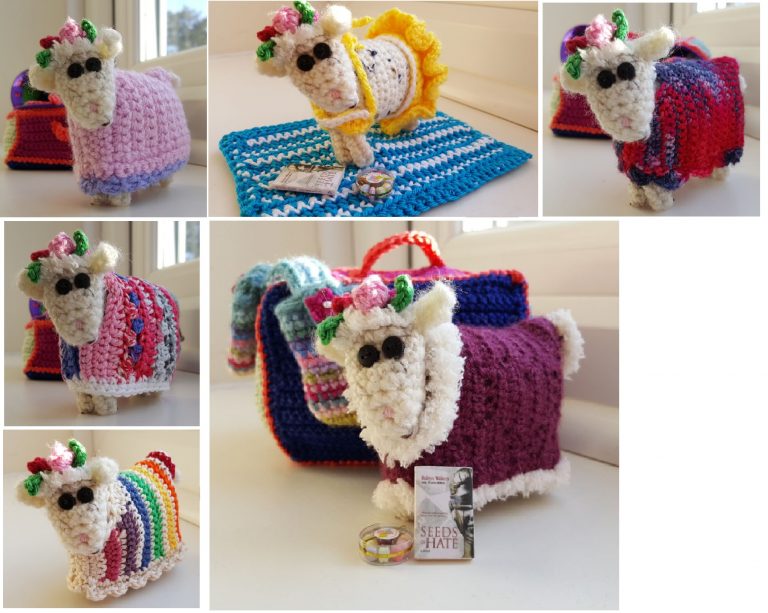 At 11:13 this morning, Mzzzz Lammikin boarded her mail bag in Nottinghamshire, UK.  Destination: Colorado, USA.   Complete with outfits for a variety of occasions, she also travels with a colourful assortment of macarons and the latest must read novel, Seeds of Hate by Robyn Walters.
The most challenging part of this project was constructing Mzzzz L's travel case.   My first attempt in acrylic yarn was over complicated and lacked personality.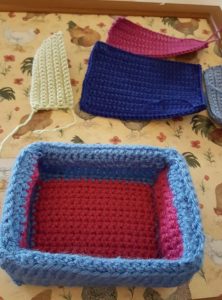 My next attempt inspired by the Paul Smith fashion house, was far better.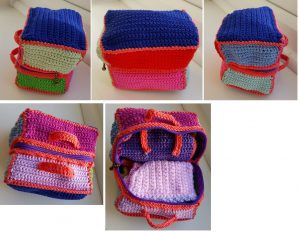 To keep Mzzz L suitably attired at all times, a mannequin has been created.  Mzzz L has graciously and bravely consented to allowing her photo to be taken sans attire.  As you can see, the 'sheepequin' is a perfect match!  It will be a cinch to whip up new outfits as and when required or inspired.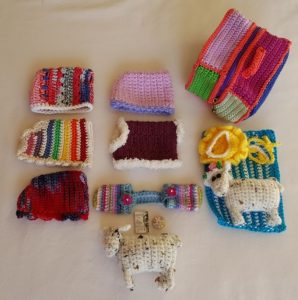 A variety of yarns was used for this first season of Fizzy Couture.
Upper left corner:  beautiful Italian made mercerised Egyptian cotton Adriafil.
Rainbow jumper: mercerised Rico Essentials Cotton DK.
Red variegated: produced by Snuggly Stars and is a blend of 75% super washed Merino wool and 25% Nylon.  It is a sock yarn and really lovely to work with.
Top middle: Stylecraft Special DK.
Burgundy with cream faux fur: Town End Alpaca Yarns and is a blend of 45% Peru Alpaca, 35% Falk Merino and 20% Silk – another gorgeous yarn to work with.  The cream trim is chenille.
Travel case and beach towel: Rico Cotton Essentials DK.
Bikini and saddlebags: Stylecraft Special DK.
Sheep are made with an acrylic tweed blend in DK that I can't remember the name of.
Jumper and Woolly Sheep patterns by Attic24.  The saddlebag design is a Fizzy Couture original inspired by Attic24's Weekend Bag.
Happy travels Mzzz L, I can't wait to see what your 2nd great adventure will be!