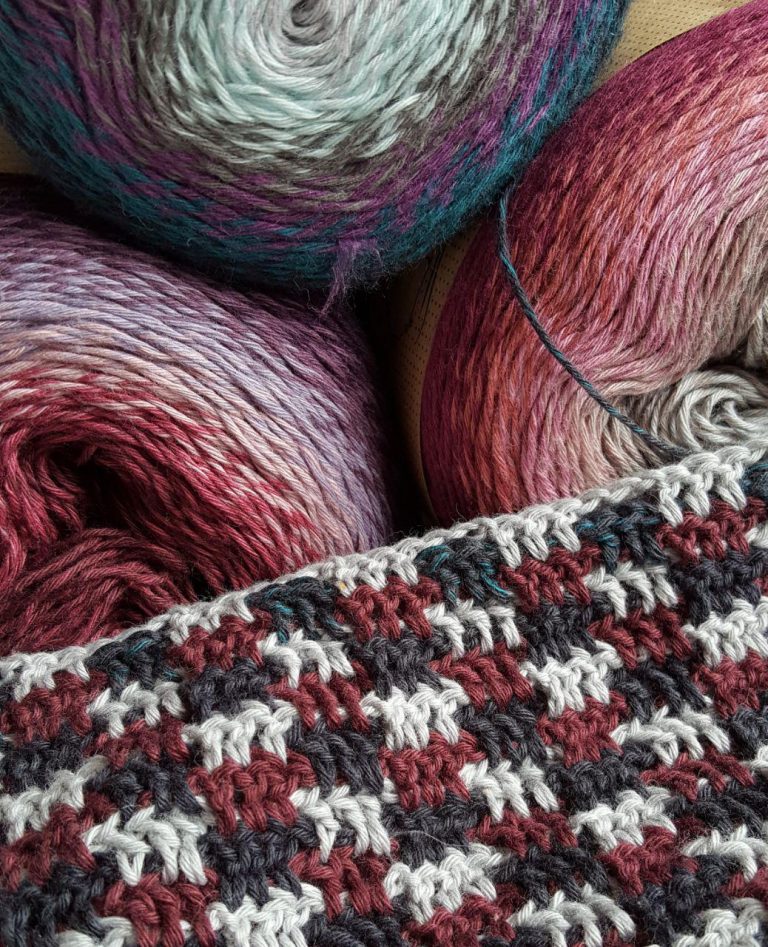 Always read the pattern before you buy the yarn.  Not just the materials list.  The entire pattern.  This is my latest note to self.
The Trio Blanket by Felted Button is made with Scheepjes Whirl.  The 220gm cakes are available in a variety of super scrummy colourways – several blocks of non-repeating colour in each cake.   Felted Button's Trio Blanket is pure crochet genius.
I decide to create my own cocktail of yarny deliciousness.  I spend the best part of two hours on Wool Warehouse's website, sharing the different colour ideas via Telegram with my husband and BFF.   The winners: Blackcurrant Squeeze Me, Tasty Nom-Nom and Cherry Pie.
The yarns arrive and I am relieved to see the 'transition' colours match well.  (Internet yarn shopping can be a bit of an adventure without a fringed shade card.)  Eager to start, I grab the pattern and my hook.
I crochet the first row.
Uh-oh.
Cake 1 is for row 1.  Cake 2 is for row 2.  Cake 3 is for row 3.  Repeat. 
I'm working with all three cakes, not one at a time.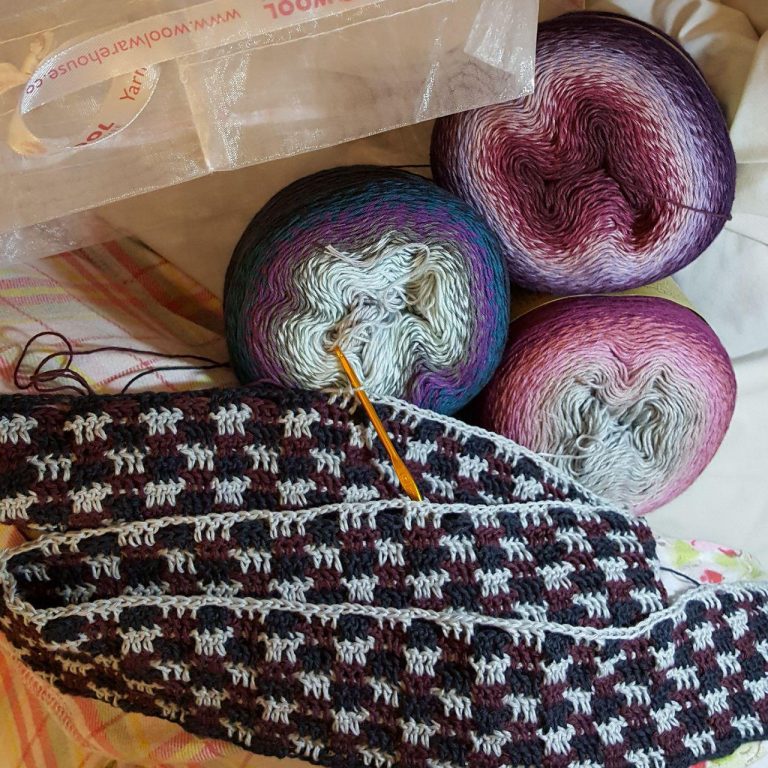 I had assumed that the cakes were used one after the other – as in you finish an entire cake, before you start the next cake.  I put together combinations that I thought would start either from the outside or inside of the cake and blend in to the same colour in the next cake, either starting from the inside or outside and so on.  The vision in my head: the colours would be rich to start, gently melting into the next colour, fading out to grey before melting into a rich colour again and so on and so forth.  A rich, meandering ribbon of varying shades and tones.
Frogging this yarn is not easy.  I crochet another few rows.  The colour combination has a distinctly winter festive flavour.  I set it aside for a few days to work on another WiP I've been doing battle with.  When I next revisit my Trio concoction, I study the colours in my cakes.  Frogging at this point is a risky venture.  Better to just commit and call it good.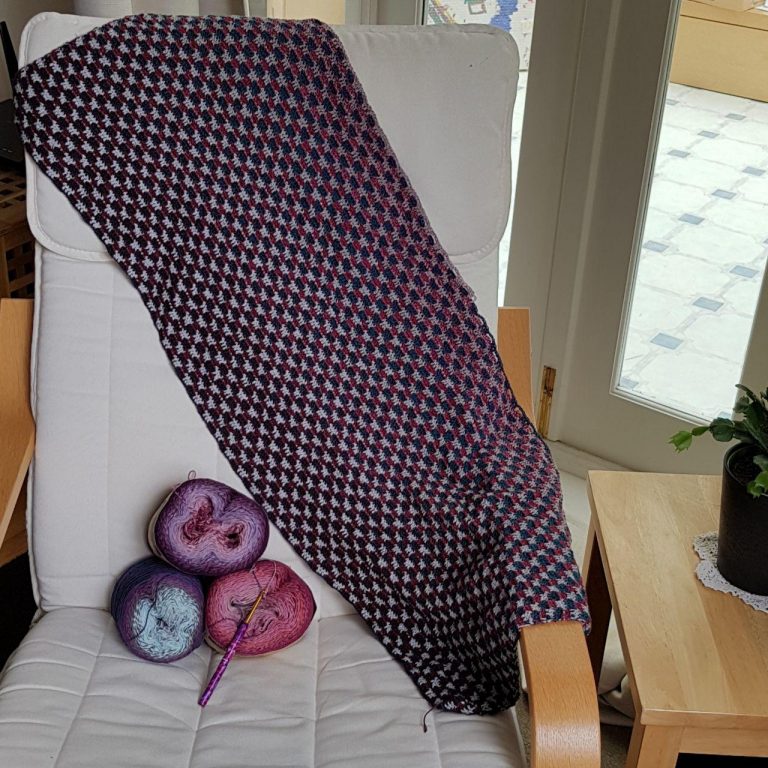 I'm adopting the attitude that this project can be like unwrapping a Christmas gift.  As the yarn is worked, the colour changes are starting to appear and with it the ebb and flow of colour I so admired in the samples.  This yarny magic is why I wanted to do the Trio Blanket.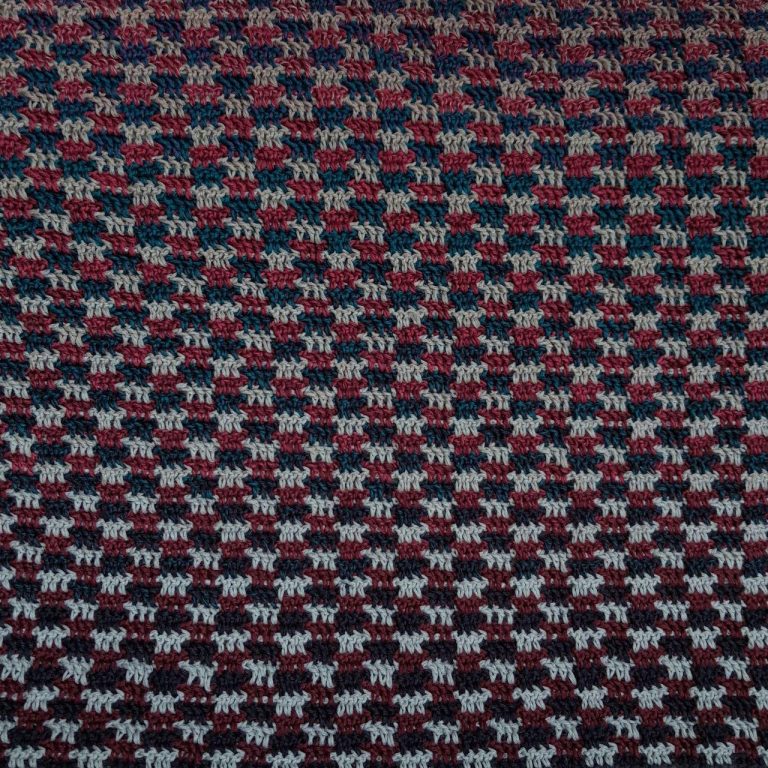 Because the yarn is quite fine (4-Ply/Sport/5-Ply/Fingering) compared to DK, and I've got other commitments, progress is slow.  I'm looking forward to having more time to spend on it soon and will continue to share pictures as the blanket grows.
Felted Button offers the Trio Blanket free on her blog or you can purchase an easy print version from Ravelry.
Hope y'all have a happy, yarny day!