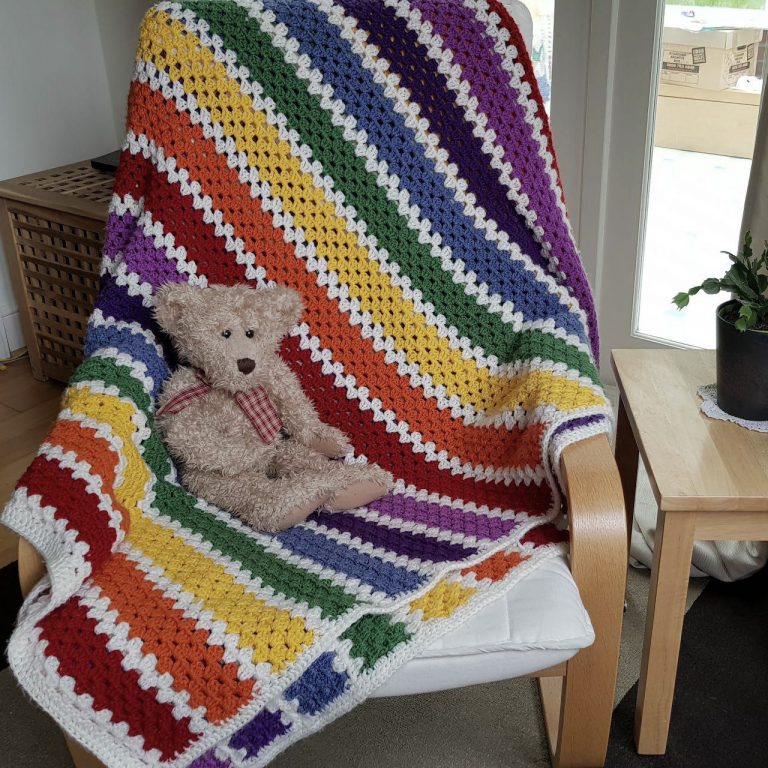 Howdy FizzyPetalites!
The Rainbow Granny Stripe Blanket was my first large project very early in my crochet journey.  Far from perfect, it was a great learning experience and a very satisfying make.  The tutorial I followed is well written with plenty of images to guide the crocheter.  LuAnn, the creator of the tutorial,  even includes a chain count for multiple sized blankets.
For those that just need a reminder sans photos, a summary in UK terms:
Beginning chain is in multiples of 3 plus 2 for turning. Chain stitch to whatever width you want your blanket to be.
Double crochet into the 2nd chain from hook.  Double crochet into each stitch of your chain.  Chain 3 and turn.
This row starts and ends with 2 treble crochet stitches.  The chain 3 counts as a treble stitch.  Crochet one treble into the same stitch your chain 3 started from.    Skip next two stitches.  Work 3 trebles into the next stitch.  Skip two stitches.  Work 3 trebles into the next stitch.  Carry on until you have 3 stitches remaining.  Crochet two trebles into the last stitch.  Chain 3, turn.  First granny row complete, yay!
This row starts and ends with 1 treble crochet stitch.  Your chain 3 made at the end of the last row and starts this row is counted a treble.  Crochet 3 trebles into each space created in the row below.  When you get to the end, you should have 3 stitches remaining from the row below.  Crochet one treble into the top of the last treble from the row below.  Voila!  You have completed your second row.
Repeat 1 and 2 until you've reached your desired length.
This is a very easy blanket to make as very little by way of concentration is required.  Just remember that each row alternates between starting and ending with 1 and 2 trebles.
For the border, as a beginner, I kept it pretty simple with 2 rows of double crochet.  When you hit the corners, you'll need extra stitches so it doesn't curl.  Double crochet, chain 1, double crochet in each corner stitch should do the trick.
Term Translation:
(UK)Double Crochet = Single Crochet
(UK)Treble Crochet = Double Crochet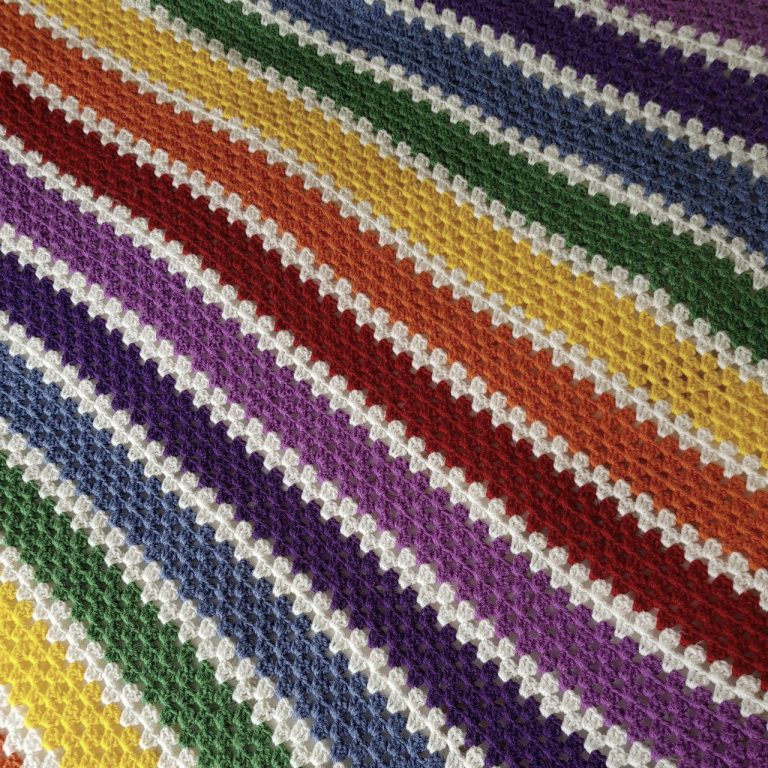 I made two of these – the first, and the one I worked all my kinks out on,  lives here in our home.  The other went to my BFF in Colorado.  Hugs from across the sea I like to think.  🙂
I love, love, LOVE vintage.   I wanted a rainbow blanket with a vintage vibe.  Although photographing rather bright, the colours I went with are less so 'in person'; Red Heart Lisa (DK) in Fern, Airforce, Purple, Lilac, Nature, Cherry, Pumpkin and Yellow – with my limited yarn knowledge, this was the closest at the time that fit what I envisaged. I don't know if the Red Heart Lisa colours I used then are in circulation now.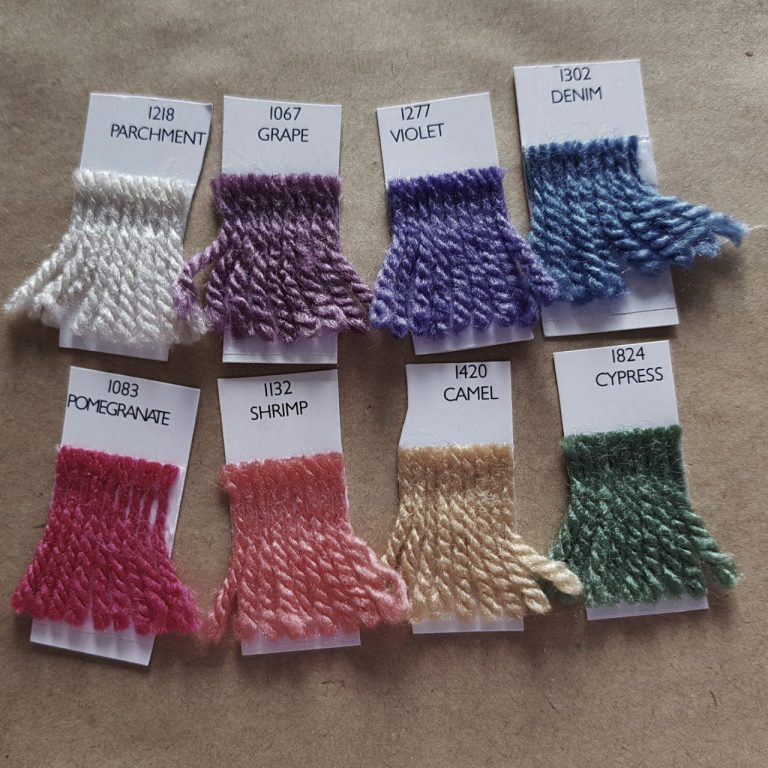 If I were to do another blanket, I'd go with Stylecraft Special DK in Parchment, Grape, Violet, Denim, Pomegranate, Shrimp, Camel and Cypress.   It is a similar colour palette but with a few colours in softer, muted tones.  If you wanted to go deeper while maintaining the vintage look,  Claret, Tomato, Gold, Cypress, Grape, Violet, Denim and Parchment would also work well.
The size of this blanket turned out rather odd because I didn't spend a much time trying to work out the best way to get an even number of rainbow repeats.  Maths are not my forte.  A term that comes to mind for my project planning in general  – 'free range'.   I have an idea in my head and generally work to what is in my head without doing the calculations on paper. Occasionally I'm surprised by the results.  In this instance, I have a very long blanket.  Means our tootsies are kept extra warm on those cold nights!
All for now, have a happy, yarny day!