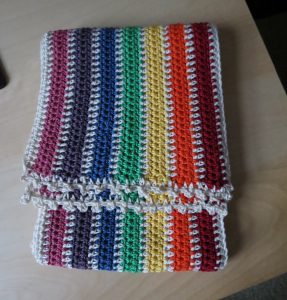 The best advice I can give to beginner crocheters: resist the temptation to start off with a big project such as a single sized (or larger) blanket.  Start small – like with a baby blanket or a scarf.
Starting small gives you enough yarn to practice your stitches and tension consistency.  If you make mistakes that need to be undone, it is not such a big deal to frog and start again.  Smaller projects are finished more quickly, satisfying and are great confidence builders.
If you decide crochet isn't for you, unless you used very expensive yarn, the financial loss in tools and materials would likely be no more than £10.  With bigger projects such as blankets, the financial loss can be much greater – not to mention the frustration and disappointment.
With that bit out of the way, let us continue…
The four basic crochet stitches you want to practice are (in UK terms) – slip stitch, double crochet, half treble crochet and treble crochet.
In other parts of the world those same stitches are also known as slip stitch, single crochet, half double crochet and double crochet.
It is easy to mix the terms when reading patterns that don't state whether a pattern is written in USA or UK terms.  Sometimes reading through the entire pattern will give you a clue.  If you're unsure it is generally best to contact the author to ask.
These scarves were my first project to be gifted to people other than my kids and were made using the half treble crochet stitch for the body and double crochet for the edging.   One went to my soul sister, the other for my husband's grandmother.  Anyone from Colorado might recognise the Denver Bronco colours in the orange and blue striped scarf.  That one was for my soul sister's husband.   Hugs from me and a first step outside my comfort zone.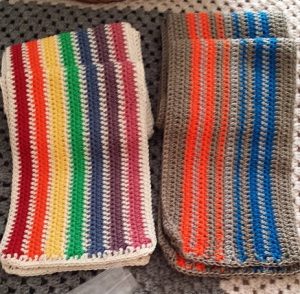 I wanted a bold look with a vintage twist for my rainbow scarves.  As the Broncos inspired scarf was for a man, I wanted to tone it down a bit with a muted colour in the background.
The scarves were a hit with all.  When Grandma passed, the rainbow scarf I made for her was returned to me.  When it is too warm for a wool or acrylic, but still a bit too chilly to wear nothing the cheerful cotton rainbow scarf is perfect.
I have not made this particular pattern in acrylic but keeping in mind acrylic will have more stretch than cotton, I'd probably shorten the starting chain to 180 – 200 stitches.   Otherwise over time, one could wind up with a ridiculously long scarf.
If you're making it for a child, 150 stitches for the starting chain should be about right for a child 7 to 12 years old.  I tend to judge these things by measuring next to a store bought scarf.  If reducing the length, keep in mind the width – too fat and the scarf won't wrap properly.
Bella Coco produced a wonderful video tutorial for the half treble (half double US) crochet stitch stripe blanket.  I followed her tutorial and adapted her pattern for the scarves.  They work up quickly and are great preparation for moving on to larger more time-consuming projects involving colour changes.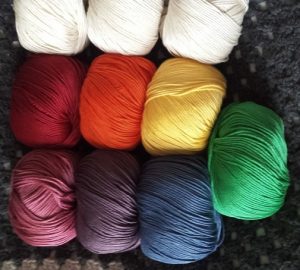 Colour Patterns
Rico Essentials Cotton DK with a 4mm hook.
Rainbow: 1 each of Banana, Berry, Cherry, Dark jeans, Pumpkin, Emerald, Mauve and Nature.
'Broncos' Inspired: 1 each of Cobalt Blue, Pumpkin and Grey.  2 x Olive Grey
Starting chain for each scarf: 273 + 2 for turning.
Stitches used: chain, half treble crochet (half double crochet US), double crochet (single crochet US)
Rainbow
Row 1 – Natural
Row 2-3 – Cherry
Row 4 – Natural
Rows 5-6 – Pumpkin
Row 7 – Natural
Rows 8-9 – Banana
Row 10 – Natural
Rows 11-12 – Emerald
Row 13 – Natural
Rows 14- 15 – Dark Jeans
Row 16 – Natural
Rows 17-18 – Mauve
Row 19 – Natural
Rows 20-21 – Berry
Row 22 – Natural
Edge the entirety with one row of double crochet (single crochet US).  This looked equally nice with plain or picot stitch edging.
Bronco Inspired Scarf
Rows 1-3 – Olive Grey,
Rows 4-5 – Pumpkin
Row 6 – Grey
Rows 7 -8 Pumpkin,
Row 9 – Olive Grey
Row 10 – Pumpkin
Rows 11-12 Grey
Row 13 – Cobalt Blue
Row 14 – Olive Grey
Rows 15-16 Cobalt Blue
Row 17 – Grey
Rows 18-19 – Cobalt Blue
Rows 20-22 -Olive Grey.
Edge the entirety with one row of double (single US) crochet.
If you make something using Bella's tutorial with my colour patterns (not necessarily same colours), I would love to see your end result! You can find me on Facebook. In the meantime, happy hooking!
Conversions:
DK: Light-Worsted, 8-Ply
4mm Hook – G/6